The Marketplace Institute
Going Public: Christian Engagement in the Secular World
Friday, Nov 23, 2012 at 2:00PM - Saturday, Nov 24, 2012 at 5:00PM PST
This event has now ended. Please view this page to see all our upcoming events.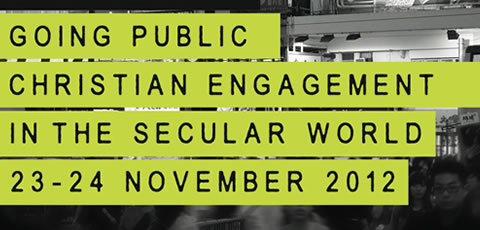 Launching a dynamic and new dialogue in Hong Kong, this series of workshops and lectures is organised by Hong Kong University's Faith and Global Engagement initiative and the Regent College Marketplace Institute. This dialogue is multi‐voiced, consisting of three different conversations.
Join in one, two, or all of the discussions; everyone is welcome.
Sessions include:
FAITH AT WORK on faith/work integration for business and professional people. With Paul Williams, John Stackhouse, and Mark Mayhew.
WHEN CHRISTIANITY GOES PUBLIC: CREDIBLE? INCREDIBLE? INCREDULOUS? on the role of Christian faith in a secular society. With Paul Williams.
GOING PUBLIC–CHRISTIAN ENGAGEMENT IN THE SECULAR WORLD on living faithfully in a fragmented world. With Paul Williams, John Stackhouse, Rod Wilson, Makoto Fujimura, and Mark Mayhew.
Location
Hong Kong (various locations). See event website for details.
More Information