Dal Schindell Gallery
Identity: Film Screening & Conversation around Faith, Race, Art & Mental Health.
Thursday, May 13, 2021 at 7:00 PM – 9:00 PM (Pacific Time)
This event has now ended. Please view this page to see all our upcoming events.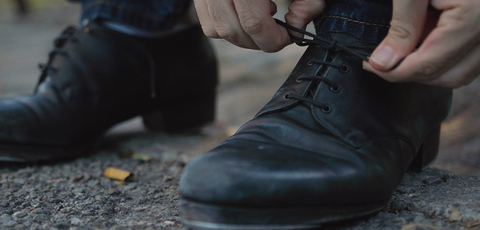 An official selection of the Justice Film Festival, Identity journeys with Andrew Nemr, an internationally known tap dance artist, as he navigates the seminal question, "Who am I?" The film joins Andrew as he navigates being the only son of immigrants, a trusted keeper of the oral tradition of tap dance, and a follower of Jesus Christ. Through many challenges we will see Andrew as he literally dances his way through questions about family, ethnicity, race, art, community, and where one's identity really comes from. Produced by Windrider productions and directed by Jonathan Cipiti.
Andrew Nemr is an international tap dance artist with a diverse roster of collaborators and performing credits – from Grammy Award winning musicians, and off-broadway productions, to TED talks and roots music festivals. Nemr is a TED Fellow, recipient of grants from the National Endowment of the Arts and the CUNY Dance Initiative, and the co-founder of the Tap Legacy Foundation, along with his mentor, tap dance legend, Gregory Hines. Having served as the director of the tap dance company Cats Paying Dues, and Artistic Director of the Vancouver Tap Dance Society, Nemr now uses his life experiences to create projects at the intersection of love, community, identity, and faith.
As part of the continued conversation with Sanctuary Mental Health Ministries, Dal Schindell Gallery curator Bryana Russell will host a panel discussion following the screening. It will feature: Andrew Nemr, Gustavo Santos (Program Director of MALTS at Regent College) and Jane Born (Program Development Coordinator with Sanctuary Mental Health Ministries).