Livestream
Building Trust in an Age of Division: A conversation with David Brooks & Rev. Jennifer Bailey, co-hosted by Regent College, Seattle Pacific Seminary, and Portland Seminary.
Wednesday, Jun 2, 2021 at 9:30AM - 12:00 PM (Pacific Time)
This event has now ended. Please view this page to see all our upcoming events.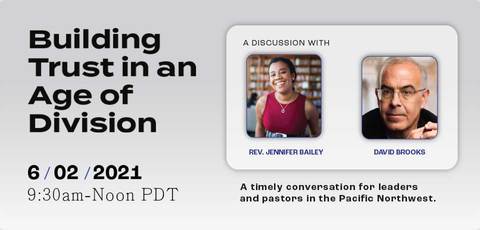 We are delighted to again partner with Seattle Pacific Seminary and Portland Seminary to present Building Trust in an Age of Division, a timely conversation between Rev. Jennifer Bailey and David Brooks. Rev. Bailey and Mr. Brooks will discuss what it looks like for our cities and networks to rebuild social trust. They will explore what is needed in the season ahead to combat division and silos that exist within our communities. We hope you'll join us for this important event.

Rev. Jennifer Bailey is an ordained minister, public theologian, and a national leader in the multi-faith movement for justice. She is the Founder and Executive Director of Faith Matters Network and Co-Founder of the People's Supper, a project that aims to repair the breach in our interpersonal relationships across political, ideological, and identity difference over shared meals. Rev. Bailey is ordained in the African Methodist Episcopal Church.
David Brooks is a New York Times columnist, a commentator on NPR and PBS NewsHour, and author of five books, including "The Road to Character" and "The Second Mountain."
This event is free and open to the public, but does require advanced registration.