Public Lecture
Triumphs of Anglo, American, and Canadian Christian Politics
Thursday, Sep 27, 2018 at 11:30AM - 1:00 PM PST
This event has now ended. Please view this page to see all our upcoming events.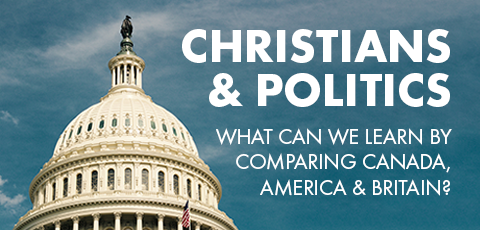 The support of American evangelicals for Donald Trump has grabbed headlines across the globe. For Christians, especially those who consider themselves evangelical Protestants, opinions have become enflamed. Some applaud. Others are sympathetic. Some are bewildered. Some appalled.
The level of intensity in the American Christian-political relationship contrasts sharply with both Canada and the United Kingdom. In the States, politics and Christianity are enmeshed. In Canada and Britain, Christians remain active in public life but in a decidedly different context.
Join leading church historian Mark Noll—author of The Scandal of the Evangelical Mind among many other notable publications—for three perceptive lectures offering historical and theological insights from the contrasting histories of Canada, Britain, and America.
All are welcome and admission is free of charge.
Lecture 2
In this noontime lecture we will discern when and where political involvement in the three regions has highlighted Christian integrity, supported Christian values, and advanced the Kingdom of God. Focusing on efforts for social reform, and support for (or opposition to) revolution we will also delve into the contrasts between Protestant and Catholic strategies of political involvement.
Lecture 3, the third and last lecture of this series, will be delivered in the evening:
Lecture 3: September 27, 7:30—9 pm "Tragedies of Anglo, American, and Canadian Christian Politics"


Dr. Mark Noll—Research Professor of History at Regent College
Dr. Noll is Francis A. McAnaney Professor Emeritus of History at the University of Notre Dame, having previously served as Professor of History and Theological Studies at Wheaton College. He has taught courses on American religious history, world Christianity, Reformation theology, Puritanism, historiography, nineteenth-century British evangelicalism, and American intellectual history.

Dr. Noll has written and edited numerous books, most recently including In the Beginning Was the Word: The Bible in American Public Life (OUP, 2015), From Every Tribe and Nation: A Historian's Discovery of the Global Christian Story (Baker Academic, 2014), Jesus Christ and the Life of the Mind (Eerdmans, 2011), and Clouds of Witnesses: Christian Voices from Africa and Asia (co-written with Carolyn Nystrom, IVP, 2011). He has also served on the editorial boards for Books & Culture and Christian History, and as co-editor of "Library of Religious Biography" for Wm. B. Eerdmans. In 2006 he received the National Endowment for the Humanities medal at the White House. Dr. Noll currently lives in South Bend, Indiana, with his wife, Maggie.
Location
Regent College Chapel
Parking
Paid parking at Regent College & UBC