Bookstore
A Conversation with Historian & Author Tom Holland
Monday, Mar 22, 2021 at 9:00 AM – 10:00 AM (Pacific Time)
This event has now ended. Please view this page to see all our upcoming events.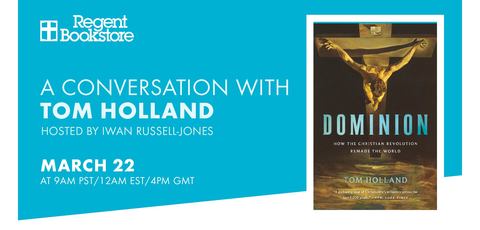 Regent College and the Regent College Bookstore are pleased to invite you to a conversation with British historian and author Tom Holland. Hosted by Dr. Iwan Russell-Jones, Mr. Holland will be discussing the reception of his recent book Dominion: How the Christian Revolution Remade the World.
Tom Holland is an award-winning historian of the ancient world and the author of six previous books, including Rubicon, recipient of the Hessell-Tiltman Prize for History and shortlisted for the Samuel Johnson Prize, and Persian Fire, winner of the Anglo-Hellenic League's Runciman Award. He lives in London.
During the event, please submit questions to [email protected].

This event is now over. A recording will be available shortly on Regent's Youtube channel.