Journey
Land of the Bible: Landscape of Faith
Sunday, Oct 7, 2018 at 12:00 AM –Thursday, Oct 18, 2018 at 12:00 AM (Local Time)
This event has now ended. Please view this page to see all our upcoming events.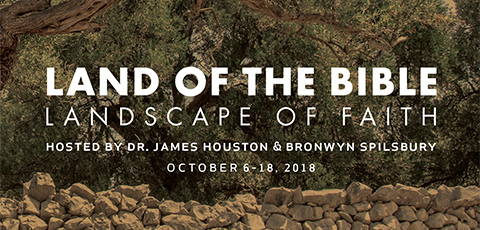 "God among us" has historical, geographical and theological roots and we are invited to experience them on a personalized guided journey that includes all the major Biblical sites plus archeological treasures! This October, join Professor James Houston to explore the significance of this most written-about, fought over, recognized and beloved place on earth! In addition to on-site teaching, Dr. Houston will offer 3 lectures shedding light on the history, geography and theology of this Holy Land.
Registration for this event will open at 12:00 pm (PST), Wednesday, February 21, 2018.
Download the Brochure
Registration Details
| Fee | Audit | Credit |
| --- | --- | --- |
| Regent College Fee | $385* | $530** |
| Christian Journeys Fee | $3,978 | $3,978 |
| TOTAL | $4,363 | $4,508 |

* $350 (1 Audit Hour) + $35 Registration fee
** $495 (1 Credit Hour) + $35 Registration fee
All prices are in Canadian dollars.
NOTE: Tour costs listed above do not include airfare. Group airfare is available from Vancouver at a rate of CAD $1879 (round trip) if desired. Please contact Christian Journeys if you wish to take advantage of this group rate. Note that the rate may change due to variances in fuel surcharge amounts. The flight from Vancouver departs October 6 and will arrive in Tel Aviv on October 7.
---
How to Register
IMPORTANT: Landscape of Faith is both a tour with Christian Journeys and a course at Regent College. Registration must be completed with BOTH organizations in order to ensure a spot in the course. Failure to complete both registration forms and payment will result in being dropped from the course.
STEP 1
Each registrant will need a login (username and password) to access REGIS, Regent College's online registration website. Request a Regent login at https://regis.regent-college.edu/Account/Login. A login can take up to 48 hours to generate, so be sure to complete this step well in advance of February 21. We suggest no later than February 18.
If you already have a Regent login, test your username and password to ensure you can access REGIS. If you have a username but have forgotten your password, please select the blue "reset your password" link. Instructions will be e-mailed to the e-mail address used to create the account.
Please note: Every registrant needs their own REGIS login.
STEP 2
Summer and Fall Registration will open February 21 at 12 pm (PST). Select "Fall Registration" and follow the simple registration steps for INDS 561: Land of the Bible: Landscape of Faith.
There are two options for registration with Regent. Both options include a $35 course registration fee, which is included in the prices below:
Audit Option (1 audit hour): $385
Credit Option (1 credit hour): $530
You will be prompted to pay a $150 deposit when you enroll. This payment must be completed online in order to confirm your registration. The remainder of your tuition ($235 for audit; $380 for credit) must be paid in one of the following ways:
Credit card over the phone (604 224 3245),
Mailing a cheque,
Canadian money order,
Western Union,
GlobalPay,
Interac Online with participating Canadian banks (TD Canada, BMO, RBC, and Scotiabank.
All registrants will be placed on a pending list (noted as "waitlist" on your registration verification) until the registration and deposit for Christian Journeys have been processed.
STEP 3
Within 24 hours of registering as an audit or credit student, you will be sent the registration form for Christian Journeys. This form should be returned as soon as possible, by email, to James Smoker, [email protected]. It should not be sent to Christian Journeys.
NOTE: Full payment is due to Christian Journeys by August 7, 2018. Payment details will be on the Christian Journeys form.
If you have any questions contact James Smoker at [email protected].
---
IMPORTANT NOTES
This course and journey has limited enrollment of 40 students.
$150 of your Regent College payment is non-refundable should you choose to cancel. Please contact Christian Journeys directly about their refund and payment deadlines and policies.

All tour members should be in sufficiently good health to enjoy the tour in its entirety.

In the event that either host is unable to fulfill his or her duties, a suitable substitute host will be provided by Regent College in consultation with Christian Journeys.
Airfare is not included in prices.