LIVING WELL FORUM
Living Well Forum—Civil Conversation: Listening and Speaking Well about Difficult Topics with Jeff Greenman
Wednesday, Feb 13, 2019 at 12:00PM - 1:00 PM PST
This event has now ended. Please view this page to see all our upcoming events.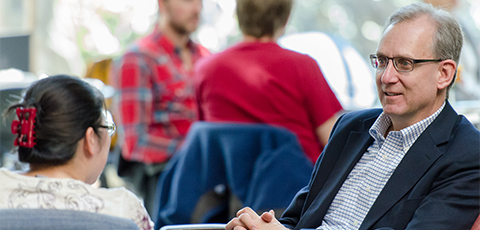 Join us for a lunchtime Living Well Forum entitled "Civil Conversation: Listening and Speaking Well about Difficult Topics "

Our world is increasingly uncivil and divided. There is little real debate about important and controversial issues where people often disagree. This seminar will explore the meaning of civility and the key qualities of productive, meaningful conversation, making the case for a distinctly Christian vision of respectful discussion. Bring your lunch and enjoy a rich opportunity to dialogue with the Regent President on a timely issue.
Jeff Greenman serves as the President and Professor of Theology and Ethics at Regent College. Over the years, his teaching and writing has focused on Christian ethics, the history of biblical interpretation, spiritual formation, theological education, leadership development, and global Christianity.