Regent Community
Convocation 2021 After Party
Saturday, May 15, 2021 at 4:45PM - 6:15 PM PDT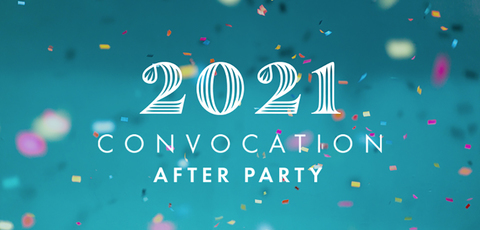 After this year's graduation ceremony, graduates are invited to gather online to mingle, chat and celebrate this wonderful milestone! The party will be open from 4:45 to 6:15 pm, with a formal welcome at 5:00 pm, and farewell comments at 5:45 pm.
We will be using a simple and easy-to-use online gathering platform called wonder.me, which will allow you to "walk" into and out of conversations with friends and faculty. You can learn more about wonder.me by watching this 30 second video.
Please note the following technical requirements:
Supported Devices: Wonder is designed for use on desktop and laptop computers. Wonder does not currently function on tablets or mobile devices. This includes iPads, iPhones, or other similar devices.
Browsers: Wonder is optimized exclusively for Google Chrome and Microsoft Edge. So please ensure that you are using one of these browsers when accessing the After Party room.
Please RSVP below so we can send you information on how to access the After Party.
If you have questions, please reach out to Christina and the Alumni Office at [email protected]