Arts
Film Screening: Making Peace with Creation
Thursday, Jan 12, 2017 at 7:00PM - 9:00 PM
This event has now ended. Please view this page to see all our upcoming events.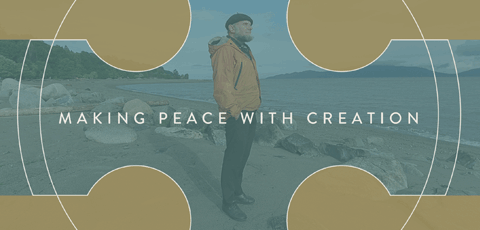 Regent College presents
A film by Iwan Russell-Jones
Making Peace with Creation
written & presented
by
Loren Wilkinson

Poet and theologian Loren Wilkinson has spent his life thinking, teaching, and campaigning about the environment—or creation, as he prefers to call it. In an era that has seen growing concern about climate change and the impact of industry and technology, Professor Wilkinson has insisted that this is a critical sphere for Christian thought and action. From their home on Galiano Island off the coast of British Columbia, he and his wife, Mary-Ruth Wilkinson, have encouraged generations of students to think long and hard about the meaning of creation and of our responsibility as creatures within it.
What can be done to address the enormous issues facing our fragile and threatened planet?
Is it possible to live confidently and creatively in the face of massive problems such as pollution and the acidification of the oceans?
What hope is there of making peace with creation?
In this hour-long film, made with the assistance of a team of students from Regent College, Loren Wilkinson goes in search of answers to these pressing questions. Through personal reflections (set both in the beautiful Gulf Islands where he lives and in the urban context of Vancouver, where he continues to teach), stimulating conversations with leading thinkers, artists and activists, and specially created art work, together with extracts from his poetry, Loren Wilkinson presents his own compelling and beautiful vision for human life in the 21st century.
Cost: $10/person, $5 for students
Alumni and friends of the college are also invited to join us for dinner and a movie for a total price of $20. For more information, contact Christina Lui at clui@regent-college.edu.
NOTE: Online ticket sales for this event end at 5 pm on January 12, 2017. Tickets may be purchased after this time in person at the Regent College Bookstore.
Location
Regent College
Parking
Paid parking is available in the Regent College parking lot.