Public Lecture
Conway Holy Land Presentation: Allysen Mahaffey
Thursday, Dec 5, 2019 at 12:00PM - 1:00 PM (Pacific Time)
This event has now ended. Please view this page to see all our upcoming events.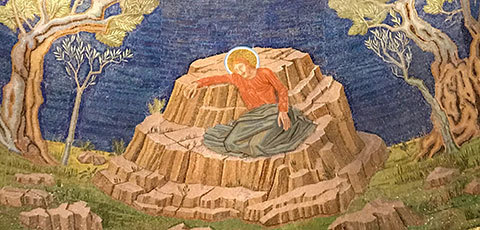 Photo: Mosaic of Jesus in the Garden of Gethsemane in the altar of The Basilica of the Agony, Jerusalem. Courtesy of Allysen Mahaffey.
Each year, one Regent student travels to the Holy Land courtesy of the Conway Holy Land Travel Bursary. The purpose of the bursary, generously endowed by Dr. John Conway, is to enable that student to engage in inter-religious dialogue and explore issues of peace and justice. This year's recipient is Allysen Mahaffey, a third-year student in the Master of Divinity program.
Allysen's presentation is titled "A Theology of Holy Tears: Lament in the Holy Land". She will share about the people she met in Israel-Palestine while exploring two primary questions:
How do people in this land, one especially marked by conflict, violence, and tragedy, enter into a place of lament?
Does entering into a place of lament, whether in prayer, worship services, or hard conversations, lead to reconciliation, healing or peace?
Please join us on Thursday, December 5 at 12:00pm to hear Allysen share her experience. All are welcome to attend.
Location
Regent College, Room 100
Parking
Paid parking available at Regent College and UBC.