Arts
Steve Bell & Pierce Pettis Live in Concert at Regent College
Thursday, Jul 16, 2015 at 7:30PM - 10:30 PM (Pacific Time)
This event has now ended. Please view this page to see all our upcoming events.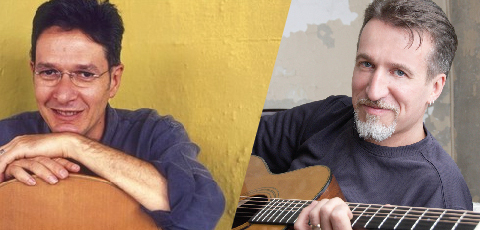 Doors open 7:00 pm
Showtime 7:30 pm
Admission $20
Tickets available at the Regent Bookstore or at the door
Guitar master, soulful singer, and charismatic performer Steve Bell is a two-time Juno award winner. Bell's compelling storytelling and songwriting have inspired audiences at over 1,500 concerts in 15 countries. His song "Long Love" won him the Word Guild's Terence L. Bingley Award for Best Song Lyrics for 2014. Steve Bell is teaching the course Seasons of Renewal at Regent College July 13 to 17.
Songwriter extraordinaire Pierce Pettis brings his profound lyrics, beautiful harmonies, inventive guitar, and rich vocals to Regent College. He is adored by both critics and the public, and his songs have been covered by Garth Brooks, Art Garfunkel, Joan Baez, Susan Ashton, and others.
Location
Regent College Chapel