Student
Fall Orientation for All New Students
Monday, Aug 27, 2018 at 8:30AM - Thursday, Aug 30, 2018 at 3:00PM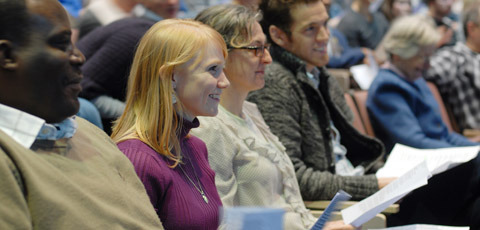 Before New Student Orientation
Please note that we offer a few services before Orientation starts:
The Welcome Centre
The Welcome Centre is there help you settle in before Orientation begins. It will be located on the main floor at Regent College in the Atrium and be open from 9:00 am to 1:00 pm, from Monday, August 20 until Monday, August 27, 2018. There will be a member of the New Student Orientation team there to meet you and help you with any questions you might have.
Gifts for New Students
Every year staff, faculty, friends and exiting students of Regent College give away good quality household items as a way to bless incoming students as they begin their time in Vancouver. Everything is free!
If you need any small kitchen or household items, small furniture, things for children, come and take a look. You are welcome to take whatever you need. Gifts for New Students will be located in Room 14 and available from Monday, August 20 to Friday, August 31st, 2018.
New Student Orientation Program
Our New Student Orientation program is intentionally designed to help you make a smooth and successful transition into the life of the Regent College community. Students find Orientation very beneficial in gaining opportunities for worship; an introduction to the history, mission and values of Regent and practical information for personal and academic success as they begin their studies. It is also a valuable time to meet the faculty and connect with other students. Indeed, students often form their most important friendships at Regent during Orientation. Please plan on attending (even if you are local) and bring your spouse and family!
Please set aside these dates for Orientation:
International Student Orientation (for all non-North American students)
Monday, August 27 (with optional afternoon and evening activities)
9:00am-1:00pm in Room 100
Registration from 8:30am
Fall Orientation for All New Students (for all new students)
Tuesday, August 28 - Thursday, August 30
9:00am-3:00pm (with optional afternoon and evening activities)
Registration from 8:30am on Tuesday
Lunch
A delicious lunch will be offered each day at a cost of $5.00 per person (children aged 12 and under can eat for free).
Childcare
Childcare is provided during the Orientation program. Please be sure to RSVP no later than August 17, 2018 to ensure that we have a place for your children.
Fall Orientation Schedule
Visit the Plan for Orientation page to download the full Fall 2018 Orientation Schedule. This will be available mid-August.
Questions?
For any questions regarding New Student Orientation, please contact Claire Perini deanofstudents@regent-college.edu

---
RSVP For Fall Orientation
Please use the form below to let us know you are coming.