Bookstore
At the Centre of Mysteries: Public Lecture & Book Launch with Loren Wilkinson
Thursday, Dec 7, 2023 at 7:00 PM – 8:30 PM (Pacific Time)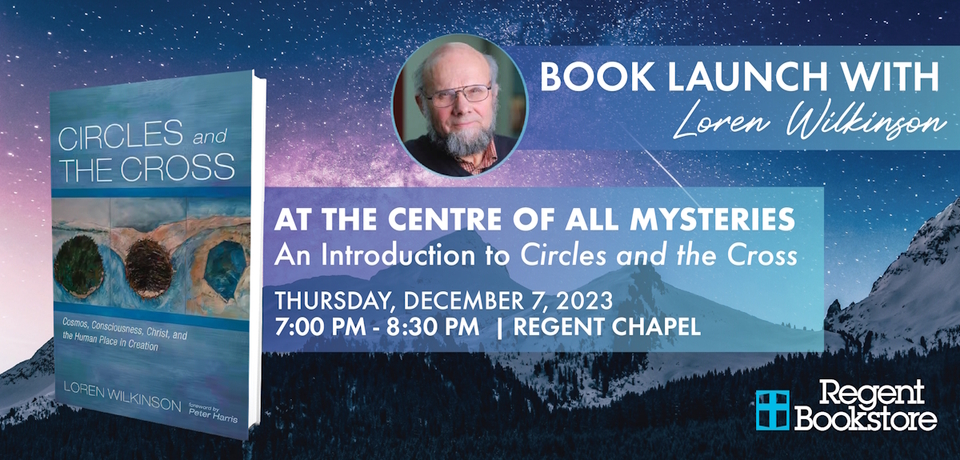 You are warmly invited to the launch of Loren Wilkinson's long-awaited book Circles and the Cross: Cosmos, Consciousness, Christ, and the Human Place in Creation. Loren will be giving a public lecture based on the book, followed by a book signing.
About the Event
We live at the center of two mysteries. One is the universe itself: "why is there something and not nothing?" The other is our awareness of that universe: why should this collection of atoms be an "I" and not an "It"? We usually take these gifts for granted. But that they are granted indeed--costly gifts--opens us to a third mystery: the cross, the self-giving love of God is at the centre of both cosmos and consciousness. This lecture explores some implications of those mysteries—for science, modern culture, and our place in the world.
Join us in Regent's Chapel to hear Loren speak in person, or tune in via livestream at rgnt.net/live.
About the Speaker
Loren Wilkinson joined the Regent College faculty in 1981. He had been an Associate Professor in the Department of English at Seattle Pacific College (1972–1977) and a Fellow at Calvin Center for Christian Scholarship (1977–1978). He was appointed Professor Emeritus at Regent College in April 2016.
Loren's teaching interests include Christianity and the arts, philosophy, and earthkeeping. He has written many scholarly and popular articles developing a Christian environmental ethic and exploring the human relationship to the natural world in its environmental, aesthetic, scientific, and religious dimensions. His books include Earthkeeping: Christian Stewardship of Natural Resources and Caring for Creation in Your Own Backyard (co-authored with Mary-Ruth Wilkinson). Loren lives on Galiano Island with his wife Mary-Ruth. They have two adult children and three grandchildren.
About the Book
Circles and the Cross: Cosmos, Consciousness, Christ, and the Human Place in Creation (Cascade, 2023) draws on Loren Wilkinson's decades of experience thinking through, writing about, and living into the relationship between Christian faith and the created world. In this work, Loren invites you to join him on a journey into understanding how the cross of Christ sheds light on the mysteries that surround us—and gives us hope in a difficult age.
"Pondering 'Why is there anything and why are we aware of it?' Loren Wilkinson brings to bear a lifetime of thought and an astonishing breath of knowledge on a journey from the origin of the cosmos to our life-friendly but wounded planet. Beyond an enlightenment mindset, he glories in wonder and gratitude for gifts of a loving God, self-sacrificed on the cross, as the source of worship, science, and art. This book is a classic."
—Poet Micheal O'Siadhail, author of The Five Quintets
Location
Regent College (5800 University Blvd, Vancouver, BC V6T 2E4)
Parking
Paid parking available at Regent College and UBC