Summer Events
Postmodern Urban Spaces: A City Tour
Saturday, Jul 8, 2023 at 9:00 AM – 1:00 PM (Pacific Time)
This event has now ended. Please view this page to see all our upcoming events.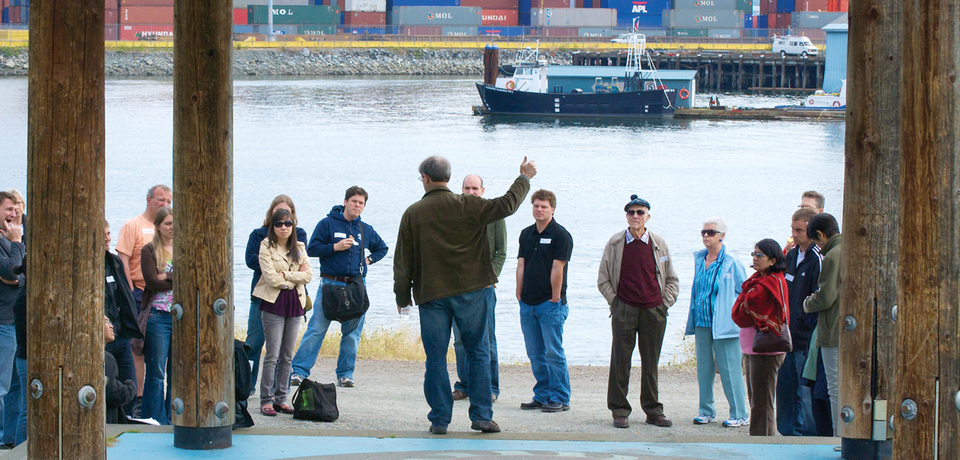 Regent is pleased to once again offer "Postmodern Urban Spaces," a bus tour of Vancouver and its districts led by Dr. David Ley, Professor Emeritus of Geography at UBC.
Please join us Saturday, July 8 from 9 am to 1 pm as David takes us through Vancouver's downtown and inner city districts, emphasizing the changing social values of postmodern culture as expressed and reproduced in these urban landscapes. He will discuss the various views and challenges of the postmodern city.
An always-popular summer event, the tour will give participants a deeper understanding of how to read cities by their urban landscape, using Vancouver as a model. The concepts of postmodernity and pluralism will be given concrete form as we study the development of various urban spaces and will enable us to gain insight into the city as a mission field.
The charter bus will depart from Regent College at 9:30 am (please arrive by 9 am) and will travel through Westside neighbourhoods to downtown Vancouver, through Gastown, the Downtown Eastside, Chinatown, Granville Island, Fairview Slopes, Shaughnessy, and Oakridge before returning to Regent at 1 pm.
Registration
Tickets are $35 per person. Space is limited, so register today at the button below to avoid disappointment.
---
We asked Dr. Ley to answer a few questions about the bus tour.
What can a city's urban landscape tell us about its social values?
DL:
A city's landscape is like a book. It can be read and interpreted to understand the story (or stories) of important values and groups in the society of the time. The tour aims to teach people to read the landscape, which adds to our enjoyment of urban life.
Vancouver has been blamed for not doing the greatest job of preserving its heritage architecture. The result is a stunning postmodern cityscape, with few historical neighbourhoods. Do you think this is a problem?
DL:
In light of weak heritage planning, it is surprising that so much heritage still remains in old neighbourhoods we will see on the tour like the Downtown Eastside (the poorest district) and Shaughnessy (the wealthiest).
One of your current projects is a comparative study of housing market bubbles in five global cities. Do you think we have a housing bubble in Vancouver?
DL:
We have high and unstable housing prices in Vancouver—many would regard this as a bubble. The market depends on off-shore wealth to keep up its prices, and many local people have high mortgage debts that would be unsustainable with sudden changes in interest rates.
How can we justify the existence of a struggling neighbourhood like the Downtown Eastside (DTES) in one of the richest cities in the world?
DL:
Poverty in Vancouver is unusually concentrated in the DTES. There is as much poverty in other cities but it is more dispersed. Having said this, gentrification is forcing poorer people out of the inner city, and we are seeing poverty areas developing in some suburbs—quite a change to the typical North American view of the suburbs as middle-class.
Do you have a favourite neighbourhood in Vancouver?
DL:
Favourite neighbourhood? Not really, as different neighbourhoods offer different points of interest. This tour emphasizes the diversity—and the desire by residents to maintain that difference—of Vancouver neighbourhoods.
Parking
Paid parking available at Regent College and UBC