Public Lecture
Listening to the Life of Jesus
Wednesday, Jun 7, 2023 at 7:30 PM – 9:00 PM (Pacific Time)
This event has now ended. Please view this page to see all our upcoming events.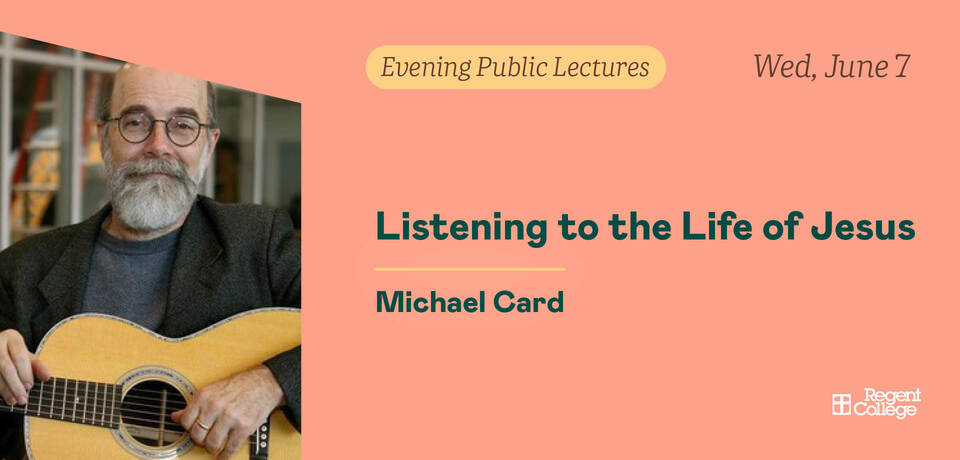 You're invited to Regent's 2023 Evening Public Lecture series! Join us in the chapel or tune in online to explore theology, culture, and much more with this year's summer faculty.
To watch this and other Evening Public Lectures online, visit rgnt.net/live.
About the Lecture
According to one of Jesus's favorite texts from the Hebrew Bible, the best way to love God is to shema—to listen to Him with all our heart, mind, and everything we are. But what does that actually look like? Join singer, songwriter, and author Michael Card for an Evening Public Lecture exploring this vital question.
About the Speaker
Michael Card has been performing and writing biblical music for the last 40 years. In that time he has overviewed the Bible from Genesis to Revelation. In the course of researching these songs he also began to teach in the context of his local church and then to eventually write books from those studies.
Michael Card is teaching The Galilean: Details of the Heart of Jesus from June 5 to 9 as part of Regent's 2023 Summer Programs.
How to Attend
Join us in Regent's chapel, or tune in via livestream. A video recording will be available online for a limited time after the event.
Location
Regent College, 5800 University Boulevard, Vancouver, BC V6T 2E4
Parking
Paid parking available at Regent College and UBC