Public Lecture
"Who Do You Say that I Am?" Being God's Image in an Age of Expressive Individualism
Monday, Jun 5, 2023 at 7:30 PM – 9:00 PM (Pacific Time)
This event has now ended. Please view this page to see all our upcoming events.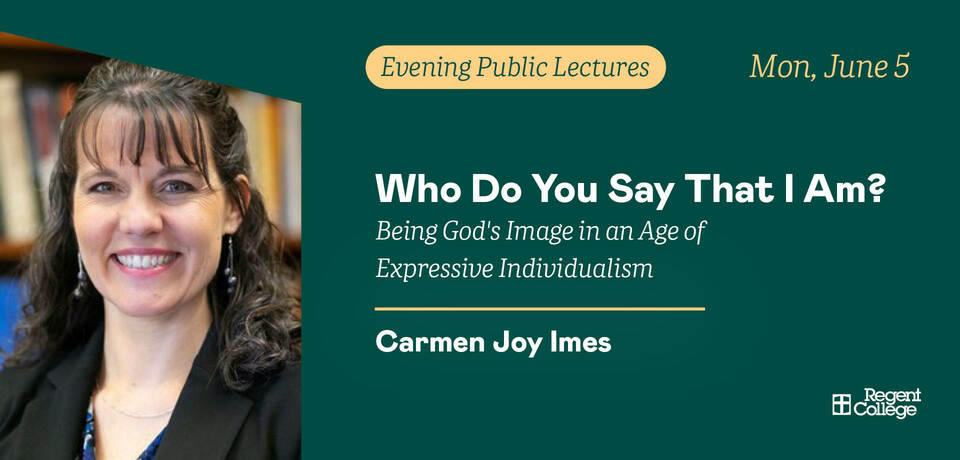 You're invited to Regent's 2023 Evening Public Lecture series! Join us in the chapel or tune in online to explore theology, culture, and much more with this year's summer faculty.
To watch this and other Evening Public Lectures online, visit rgnt.net/live.
About the Lecture
Recent generations seem obsessed with curating a public "image," caring deeply about how individual self-expression is received. Old Testament scholar Dr. Carmen Joy Imes begins with the premises that every human being is the image of God, that this status is tied to our physical embodiment, and that this cannot be lost or diminished. If this is true, what are the implications for human identity and vocation? How does God define us, and what parameters does that provide for our own growth and development? And, finally, how can an understanding of the image of God inform our engagement with some of today's hot topics?
About the Speaker
Dr. Carmen Imes is Associate Professor of Old Testament at Biola University's Talbot School of Theology. Her books include Bearing YHWH's Name at Sinai: A Reexamination of the Name Command of the Decalogue, Bearing God's Name: Why Sinai Still Matters, Reading the Psalms with Augustine and Friends, and Being God's Image: Why Creation Still Matters. She is currently working on a commentary on Exodus for Baker Academic. Carmen is an active member of the Institute for Biblical Research, the Society of Biblical Literature, and the Evangelical Theological Society. She blogs at carmenjoyimes.blogspot.com and you can find her writing at Christianity Today, The Well, and the Politics of Theology Blog. She releases weekly Torah Tuesday videos on her YouTube channel and is a fellow of Every Voice: A Center for Kingdom Diversity.
Dr. Imes is teaching The Book of Exodus as part of Regent's 2023 Summer Programs.
How to Attend
Join us in Regent's chapel, or tune in via livestream. A video recording will be available online for a limited time after the event.
Location
Regent College, 5800 University Boulevard, Vancouver, BC V6T 2E4
Parking
Paid parking available at Regent College and UBC