Regent Community
Memorial Service for Dr. Gordon Fee
Saturday, Mar 4, 2023 at 1:00PM - 4:00 PM (Pacific Time)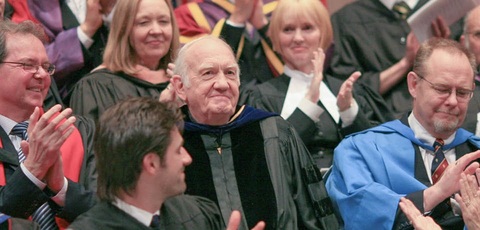 Since Dr. Gordon Fee's death on October 25 of last year, many of us have spent time reflecting on his life, legacy, and teaching. Knowing how much Dr. Fee has meant to the Regent community, his family has extended an invitation to a memorial service and reception in his honour, to be held in Vancouver on Saturday, March 4, 2023.
The memorial service will be held at 1 pm at University Chapel (5375 University Blvd, Vancouver, BC V6T 1K3). Limited parking is available. For further details, please email the church at [email protected].
A reception will take place from 2 to 4 pm in the Regent College atrium. To avoid overcrowding, the Fee family asks guests to stagger their arrival and departure times throughout the two-hour event.
If you are interested in making a memorial gift, the Fee family invites you to contribute to the creation of the Gordon Fee Prize in New Testament Studies at Regent College. To make an online donation:
Visit rgnt.net/give.
Select "Memorial/Tribute" from the drop-down list.
Write "Gordon Fee" in the comments field.
We look forward to seeing many members of the Regent community as we celebrate Dr. Fee's life on March 4.
Location
Memorial Service: University Chapel, 5375 University Blvd, Vancouver, BC V6T 1K3; Reception: Regent College, 5800 University Boulevard, Vancouver, BC V6T 2E4
Parking
Limited parking available at University Chapel. Paid parking is available at Regent College and UBC.