Dal Schindell Gallery
Chasing the Light
Thursday, Dec 1, 2022 at 8:30 AM –Wednesday, Jan 25, 2023 at 12:00 AM (Pacific Time)
This event has now ended. Please view this page to see all our upcoming events.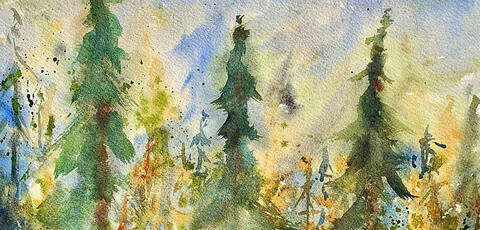 Chasing the Light
Paul Spilsbury
November 30, 2022 to January 25, 2023
The Dal Schindell Gallery invites you to a watercolour exhibit with local artist Paul Spilsbury. Join us for an opening reception on Nov 30 from 4–7 pm in the gallery.
Opening Reception
Join us for an opening reception on November 30, 2022 at 4 pm until 7 pm.
ABOUT THE EXHIBITION
Watercolour painting, like life, is all about chasing the light. Light through water, light on paper, light in pigment. This exhibit evokes the quest to capture, depict, and understand the elusiveness of light using the classic elements of line, shape, value, and colour on paper, to depict the wild, welcoming landscape of British Columbia's west coast. It also invites us to explore the greater Light behind every work of creation, the Light that inspires, inhabits, supports, sustains, and sources all that is real.
ARTIST BIO
Paul Spilsbury is a scholar, author, teacher, and academic leader living in Vancouver. He is also a self- taught artist, whose childhood love for line drawings grew into a passion for loose watercolour paintings in his student and postgraduate days, and flourished through the influence of books, videos, and the encouragement of friends.
Paul's watercolour landscapes offer captivating evocations of the beauty, mystery, and drama inherent within creation, while at the same time causing the viewer to contemplate their own place within a world that is threatened on every side. In this world, it is light that makes us feel at home, and light that shows us the way forward to healing, hope and wholeness, if only we will see it.
Paul's work is indebted to the inspiration of colour theorist and mixed media artist, Marcia Hinds, whose passion for colour is felt throughout this exhibit. Using a blend of both richly saturated and realistic colours, Paul's representational paintings belong on a spectrum that includes impressionistic, idealized, and realistic scenes. With a quality of serenity and longing, Spilsbury's art is often described as peaceful and alluring, with a sense of enchantment running throughout. He welcomes you to join in Chasing the Light.
---
The Dal Schindell Gallery is located at Regent College, which sits on the traditional, ancestral, unceded territory of the xʷməθkʷəy̓əm (Musqueam) First Nation.
Location
The Dal Schindell Gallery at Regent College, 5800 University Boulevard, Vancouver, BC V6T 2E4
Parking
Paid parking available at Regent College and UBC
More Information