Recruitment
Experience Regent On Campus
Tuesday, Mar 14, 2023 at 10:00AM - 2:30 PM (Pacific Time)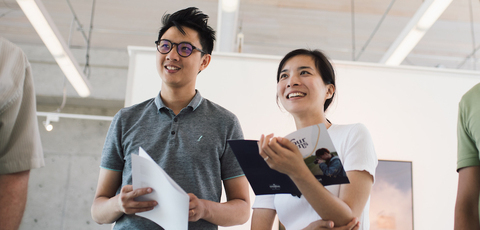 IMAGINE YOUR LIFE HERE. DREAM ABOUT YOUR FUTURE. BE A STUDENT FOR A DAY.
Our Experience Regent events introduce prospective students to Regent College. Join us on campus on March 14, 2023 and get to know our vibrant community of staff, students, and world-class faculty.
At Experience Regent On Campus, you'll get the most out of a one-day visit to Regent College. Join prospective students like you and immerse yourself in the life of the school. Here's a glimpse of what to expect!
ACTIVITIES
Join us at 9:30 am for light refreshments and a casual welcome before the day's program begins. Between 10 am and 2:30 pm, you'll participate in several activities—all designed to give an overview of our graduate programs and insight into the history and culture of Regent College.
hear from our academic dean, Dr. Paul Spilsbury;

get to know a panel of faculty members;
participate in our weekly chapel;
enjoy coffee and lunch (provided);
sit in on a class (optional);
tour Regent's building on UBC's beautiful seaside campus.
COVID-19 TRAVEL
If you're attending Experience Regent from outside of Canada, please make sure you understand what's required to enter the country by visiting this government website page on COVID-19 travel.
SCHOLARSHIP
By attending Experience Regent On Campus, you will receive an exclusive $500 Experience Regent Scholarship to be applied towards your tuition when you begin your studies. (Note that this scholarship can only be applied to courses taken in Fall and Winter terms after a student has enrolled in a full-time program at Regent College.)
REGISTRATION
Location
Regent College, 5800 University Boulevard, Vancouver, BC V6T 2E4
Parking
Paid parking available at Regent College and UBC
More Information