Public Lecture
With "Sighs Too Deep for Words": Silence, The Holy Spirit, and Music in the Processing of Traumatic Experience
Monday, Jul 25, 2022 at 7:30 PM – 9:00 PM (Pacific Time)
This event has now ended. Please view this page to see all our upcoming events.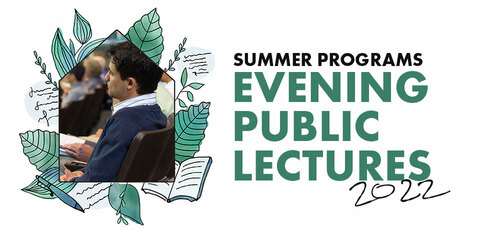 Regent's Evening Public Lecture series is back for another summer! Join us in person or online to explore Scripture, theology, culture, and much more with Summer Programs faculty and other exciting speakers.
To livestream this and other Evening Public Lectures, visit us at rgnt.net/live.

About the Lecture
Post-traumatic experience is often marked by silence. Emotions and fear flood the senses while the capacity for language dissipates. Helplessness ensues, and God can feel distant and silent. In this wordlessness, however, we are promised the presence of the Holy Spirit, translating our groans and inarticulateness with "sighs too deep for words." Within this vulnerable interchange, music has a strange ability to bear witness to both our hopelessness and the interceding presence of the Spirit. Join us for a conversation about how musical lament can generate new (Spirit) language in post-traumatic life, even as our sorrows and struggles remain.
About the Speaker
Chelle Stearns is Associate Professor of Theology at The Seattle School of Theology & Psychology. She studied Christianity and the Arts at Regent College in Vancouver, BC and earned her PhD at the Institute for Theology, Imagination, and the Arts at the University of St. Andrews in Scotland. She has a broad interest in theological engagement with the arts, but her primary work is in music and theology. Her current writing is focused on the intersection of trauma, theology, and music. Chelle is the author of Handling Dissonance: A Musical Theological Aesthetic of Unity (2019).
Dr. Stearns is teaching Longing for Shalom: Musical Lament in the Christian Imagination from July 25 to July 29 as part of Regent's 2022 Summer Programs.
Format and Attendance
Regent intends to offer this lecture as a live event in the College's chapel. Under current provincial policies, this event will not require attendees to show proof of vaccination. Please be aware, however, that Regent's event protocols will follow the guidelines in place on the event date.
This lecture will also be streamed live online, and we look forward to being joined by friends from around the world. A recording will be available for a limited time after the event.
Location
Regent College, 5800 University Boulevard, Vancouver, BC V6T 2E4
Parking
Paid parking available at Regent College and UBC