Public Lecture
The Fear of the Lord and the Virtue of Accountability
Monday, Jul 11, 2022 at 7:30 PM – 9:00 PM (Pacific Time)
This event has now ended. Please view this page to see all our upcoming events.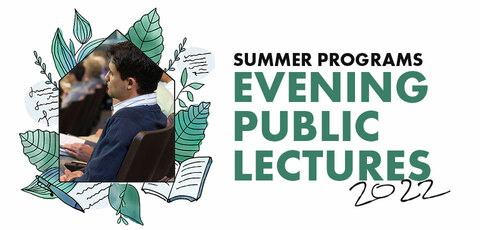 Regent's Evening Public Lecture series is back for another summer! Join us in person or online to explore Scripture, theology, culture, and much more with Summer Programs faculty and other exciting speakers.
To livestream this and other Evening Public Lectures, visit us at rgnt.net/live.

About the Lecture
Our culture often talks about accountability as something similar to punishment. When a politician or prominent figure does something wrong, there is a cry to hold the person accountable by punishing what has been done. Here, our focus is towards the past. It is therefore understandable that we often see accountability as something we want to avoid, as no one likes to be punished. Still, most of us would probably admit that our actions are better when we know that we will be held accountable for those actions.
The biblical view is that all humans are accountable to God globally for how they live their lives. Surprisingly, if we look at the Old Testament, being accountable to God is seen as a good thing, a gift. The ancient Israelites saw "the fear of the Lord" as a virtue—in fact, the virtue which is foundational to true wisdom—and I will suggest that this virtue is best understood as a willing embrace of being accountable to God. Accountability to God not only provides motivation for living rightly; it also gives our lives a deep meaning and worth they would otherwise lack.
About the Speaker
C. Stephen Evans (PhD, Yale) is University Professor of Philosophy and Humanities at Baylor University and Director of the Baylor Center for Christian Philosophy. He is also a Professorial Fellow at the Logos Institute for Analytic and Exegetical Theology at the University of St. Andrews. He has published extensively on Kierkegaard, the philosophy of religion, ethics, and the philosophy of psychology. Having written more than twenty books for publishers like Oxford University Press, IVP Academic, and more, his most recent book is Kierkegaard and Spirituality: Accountability as the Meaning of Human Existence. Prior to Baylor, Evans taught at Wheaton College, St. Olaf College, and Calvin College, where he served as Dean for Research and Scholarship and was the inaugural holder of the William Spoelhof Teacher-Scholar Chair. He is married to Jan Evans, Professor of Spanish in the Department of Modern Languages and Cultures at Baylor. They have three children and two grandchildren.
Dr. Evans is teaching Reading Kierkegaard Today: His Vision, Message, and Challenge from July 11 to July 15 as part of Regent's 2022 Summer Programs.
Format and Attendance
Regent intends to offer this lecture as a live event in the College's chapel. Under current provincial policies, this event will not require attendees to show proof of vaccination. Please be aware, however, that Regent's event protocols will follow the guidelines in place on the event date.
This lecture will also be streamed live online, and we look forward to being joined by friends from around the world. A recording will be available for a limited time after the event.
Location
Regent College, 5800 University Boulevard, Vancouver, BC V6T 2E4
Parking
Paid parking available at Regent College and UBC