THEO 631
Participation in God: From Maximus to Aquinas
Course Description
How are we to understand the relationship between creator and creature? The modern approach has been to radically separate them by banishing God upstairs. Isolation from God hasn't brought us the happiness we long for. Instead, loneliness, alienation, and loss of direction have been the result. In this course, we turn to the Great Tradition—both East and West—in search of an alternative: created participation in the uncreated life of God. By carefully exploring writings of theologians such as Augustine, Dionysius, Maximus, and Aquinas, we will get a glimpse of a richer, more meaningful world, one that is enchanted through participation in God.
Note: This course is not available online and will only be available onsite.

Dates
Jul 31–Aug 4
Days & Times
Mon, Tue, Wed, Thur, Fri
8:30AM–11:30AM
Format
Onsite Only
Credit Hours
1–2
Audit Hours
1
Faculty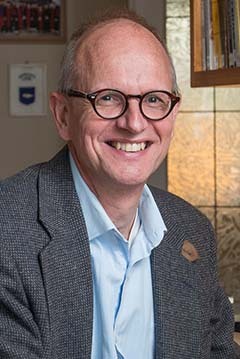 Hans Boersma
Research Professor of Theology
Prerequisites
There are no prerequisites for this course.
"
What I love about Regent is that it's a place for people who have questions about their ordinary lives. Not just academic theological questions, but questions about what it means to live the good life or be faithful. Not just a space for heady conversations but a place to wrestle with faith and a place where they can belong." —
Vivian Lee
(MATS student)