About Regent Exchange
PROGRAM INFORMATION
The Regent Exchange program includes two main components:
Participation in a Church Learning Community
We believe the exploration of Christian vocation is best understood in the context of relationships. In light of this belief, the heart of this program is the creation of a Church Learning Community that walks together over the course of at least 12 months (with possible renewal). Each church will be represented by a core facilitation team of 2–4 members who will participate in learning opportunities hosted by Regent Exchange along with 3–5 other church teams.
Development of a ministry project in your church
Church facilitators will also lead their respective churches in a process to discern how God may be inviting them to new ways of living into their vocation through developing or modifying a ministry project with support from a grant. These grant-funded projects should contribute to a deepening understanding and practice of vocation on the part of the church as a whole and individuals within it.
The nature of the ministry projects may be diverse. The project could be anything from helping individual church members reflect on their vocations in light of God's story to mobilizing a whole church to meet a particular need in its neighbourhood. Regent Exchange will encourage churches to design and undertake projects that build and strengthen connections within their local communities and respond to needs felt beyond the church walls with the goal of contributing to the common good.
Staff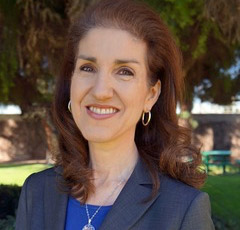 Rhonda McEwen
Director of Regent Exchange
Associate Professor of Education and Culture, Regent College (BA, MA, PhD)
Rhonda serves on faculty at Regent College and is deeply committed to Regent's vision of connecting the academy, the church, and the world. She comments, "Regent Exchange is a wonderful expression of Regent's long commitment to integrative theology that embraces all of life… Our deepest hope for the project is that it will involve a fruitful exchange of ideas between Regent and the churches involved, and that it will serve those churches well as they explore what it means to serve the common good in their particular contexts."
Elsie Lo
Research Associate (BA, MA)
Elsie is a gifted communicator with a background in campus ministry and a heart for leadership development, spiritual formation, and intercultural training. She has a particular interest in preparing women and ethnic minorities for leadership in the church.
Elsie first came to Regent for a Summer Programs course in 2009, returning to begin her MATS degree in 2018. "I'm excited to work on Regent Exchange," she says, "not only because I resonate with the vision and mission of Regent College, but also because the opportunity sits at the intersection of my passion for thoughtful research, whole-life discipleship, and pioneering innovative ministry. I am excited to see the project bring the gifts of deep faith and scholarship to meet real-world contexts."
In addition to her BA in Social Development Studies and an MA in TESOL, she holds a Certificate in Intercultural Studies from UBC. Elsie enjoys hiking and spending time near the ocean with her husband Phil and their daughter Raven.
Kelly Maurice
Research Assistant (BSc, MSc)
Kelly is a skilled administrator with a passion for social justice, the arts, and community-based projects that serve the common good. An interest in diverse populations has led Kelly to serve in a number of multi-ethnic and multi-denominational environments. She has a particular passion for the Haitian community and travelled to Haiti in 2012 with a humanitarian relief team. Before moving to Vancouver in 2018, Kelly volunteered with the Mustard Seed, the Haitian Association of Calgary, the Action Committee for Black Affairs of Calgary, and the Calgary Catholic Immigration Society. She also served on the Leadership Advisory Committee for Calgary Laboratory Services' Strategic Leadership Group.
A lifelong learner, Kelly has supplemented her master's degree in Pharmacology with courses in Global and Intercultural Studies, a Medical Laboratory Assistant Certificate, and a Certificate in Project Management. Kelly is fluent in French and English. She is currently pursuing a Master of Arts in Theological Studies at Regent, with a concentration in Doctrinal Theology.

Steering Committee
Steve Garber
Professor of Marketplace Theology and Leadership Director of the Master of Arts in Leadership, Theology, and Society, Regent College
Dr. Steven Garber is an author, teacher, and speaker who holds a deep conviction that faith must be held together with every part of life. This belief has been the common thread in much of his life's work. He arrived at Regent College, most recently, from his role as Director of the Washington Institute, an organization which he founded in 2005 to teach, serve, and equip the church in a deeper understanding of common grace or the common good. His work at the Washington Institute, along with years of thinking about the nature of calling and career, led him to author his most recent book, Visions of Vocation: Common Grace for Common Good.
Steven is also an advisor and consultant for an array of businesses, foundations, and educational institutions including Demdaco Corporation, Mars Corporation, Murdock Trust, Blood:Water Mission, and Telos Group. Steve is married to Meg. They have five adult children whose own callings have taken them all over the world.
Christina Lui
Alumni and Church Involvement Officer, Regent College
Christina's work at Regent brings her experience in pastoral ministry together with her passion for connecting and empowering people with a theological education that engages the whole person. She was part of the initial planning phase of Regent Exchange and continues to advise the project and cultivate long-term relational connections with the churches that participate in Regent Exchange.
After finishing her MCS at Regent College in 2006, Christina served as the Associate Pastor at University Chapel on the UBC campus from 2008 to 2016. She comments, "Regent has always been for the church, and because of Regent Exchange, we now have the opportunity to journey together even more closely than we have in the past. I'm excited for both how churches will learn and grow, and for how Regent will learn and grow through this initiative."
Christina believes strongly that Regent's presence—extended through its extensive alumni network—continues to bring about great good for the church and the world. She and her husband, Daniel Ray (MDiv '10), have two young children and live in Vancouver.
Jonathan Bird
Church Relations Specialist, Union Gospel Mission
As Church Relations Specialist for Union Gospel Mission, Jonathan finds joy in helping congregations flourish through pursuing the shalom of the people and places of their neighbourhood. He believes that in seeking peace for others, churches discover the mutual transformation Jesus makes possible when we do life with folks experiencing poverty, homelessness, or addiction.
He holds an MCS in Old Testament Studies from Regent College where he paid attention to the implications of ancient Israel's story for Christian mission in the postmodern era. He also holds an MA in Literature from Miami University (Ohio) where he studied critical theory and the aspirations of the avant-garde to remake society after the "death of God." He is fascinated by the implications of the story of redemption having an urban conclusion, and the implication that the built form and culture of the city shape human identity as well as Christian spirituality.
Jonathan has worked in ecumenical city-reaching, parish community development, home renovation and construction, cabinet-making, municipal affordable housing development, and academia. The common foundation to the many shapes his career has adopted is this: a passion to see the church grow in her active love and knowledge of the modern city. It is that passion, combined with years of diverse on-the-ground experience that he brings to the Regent Exchange Steering Committee.