There are several ways to expose yourself to thoughts and ideas coming out of Regent, and to stay on top of our news and events.
The Regent World is a free publication of Regent College that connects College news, people, and events to conversations in our world. We publish three issues per year: Fall, Winter, and Spring/Summer.
Subscribe to receive The Regent World by email
Got ideas for a story? A news item or event related to Regent that you want to promote? Or maybe some feedback on an article we published? We'd love to hear from you: contact the editor
---
Regent News & Updates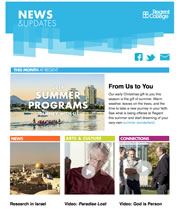 This is our electronic newsletter that goes out approximately once a month to the entire Regent community of students, alumni, staff, faculty, supporters, and friends. It's our way to stay in touch with you and let you know what's happening at Regent.
---
Crux is a quarterly journal of Christian thought and opinion published by faculty and alumni of Regent College since 1979.
You can also order or pick up a copy through the Regent Bookstore.