ReFrame is a journey into God's story—
the story that changes everything.
ReFrame takes the heart of Regent's curriculum and makes it accessible to churches and small groups around the world. Not only does the course guide participants through the biblical narrative of creation and redemption, it encourages and equips Christians from every walk of life to recognize their own role in God's ongoing story.
ReFrame is changing how individuals, small groups, and entire churches and organizations see God, themselves, their work, and the world. Here are just a few examples.
"ReFrame is brilliant, accessible, and engaging. It invites an encounter with Christ and His vision for the world that leads to head, heart, and hands integration."

Terry Timm, Senior Pastor, Pittsburgh PA
Learn More:
What is ReFrame?
ReFrame is a film-based course that explores how the biblical narrative re-frames our lives and invites us to become joyful participants in God's ongoing mission. Featuring TED-style lectures from Regent College professors, conversations with a wide range of professionals, and insights from prominent Christian thought leaders, ReFrame offers a unique blend of biblical engagement and real-world applicability.
Visit the ReFrame website to find more information, sample episodes, and keep tabs on upcoming events.
Five Places ReFrame Is Making a Difference
In Chicago, members of a businessmen's Bible study got so much out of ReFrame that they recommended it for their entire congregation. The church rolled out ReFrame in all its small groups and preached on related texts each Sunday—and the congregation loved it.
In Knysa, South Africa, a retired pharmaceutical executive used ReFrame to mobilize a group of retirees to action, helping them see how much they still have to contribute to the world.
In Washington state, a Prison Fellowship volunteer led a group of inmates through the ReFrame course. After their release, participants were able to return to the workforce full of hope, knowing that their work has meaning in God's story, no matter how menial it might feel.
In Vancouver, the staff of a Christian school in Vancouver used ReFrame to re-imagine how they teach every subject, incorporating God's vision for the world into their math, history, English, and science classes.
In rural Texas, the Chief Strategy Officer at a hospital in rural Texas reframed how she makes salary decisions and how she communicates the hospital's role in its community.
One Group's Journey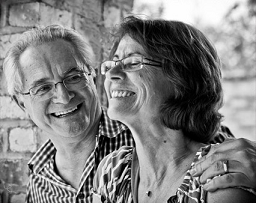 Last year, the fairly recent retirees in Gerry and Shirley Malnis's church small group realized they were all asking similar questions: "Where do we fit now that we are retired? What is our purpose? What is our work?" This prompted them to look for small group material that addressed these questions and would bring vision and purpose to their retirement years. Their search eventually led them to ReFrame.
Their group included a retired school teacher, physician, engineer, social worker, nurse, businessman, and pharmacist. Despite this diversity, they found themselves in a common place of needing to "reframe" their remaining years. While Gerry never truly believed in retirement, he states that the ReFrame curriculum reinforced and affirmed for the entire group, "we still have much work to do!"
For many in the group, the idea that their everyday work—whether parenting, teaching, caregiving, or running a business—was a key part of God's mission in the world was a new idea. They completed the course with vision and excitement for reimagining their retirement years, but there was also a prevailing sense of wishing that they'd had a larger understanding of the gospel earlier in life—they wished they had had the confidence that God cared about the whole of their life's work. This regret prompted them to start asking, "how do we share what we've learned with the next generation? How do we encourage those in the midst of trying to balance work and family life with a vision that their ordinary lives are a critical part of the mission of God?"
An opportunity to pass on what they had learned presented itself as Gerry was sharing about their group's experience of ReFrame with a young adult on the Missions team at their church. His story connected with the questions she was wrestling with and she asked if he would consider running the course and include their young adults group.
This coming fall, the Malnis' small group will be hosting ReFrame at their church for all who want to attend, including young adults. Hosting ReFrame will provide an opportunity for dialogue and mentorship with people wrestling with questions of purpose, vocation, and identity no matter what their season of life.
Gerry reflects, "ReFrame has lit a fire in a group that thought it was going to be put out to pasture. Not only have we been profoundly encouraged that none of our work has been wasted, and that our lives are not over yet, we've realized we may have something really valuable to give the next generation."
More Participant Feedback
"ReFrame is refreshing, theologically sharp, and missiologically thoughtful. We are thrilled to bring it to emerging leaders from all around the globe."

Sarah Breuel, Chair of the Lausanne Younger Leaders Gathering
"ReFrame is the best small group resource I have used in 20 years of pastoral ministry."

Peter Mueller, Senior Pastor, Seattle WA
"ReFrame gave me vision for my place in God's Kingdom work. It's challenged me to ask, 'God, what's your vision for healthcare?'"

Emily Padula, Chief Strategy Officer, Hill Country Memorial Hospital, Texas
Keep the momentum going
Over 10,000 people have used ReFrame so far, and it's changing lives. We rely on your donations to bring ReFrame to new communities and help them use it well.
Monthly gifts are especially helpful as we make plans to introduce ReFrame to new communities. To set up a recurring gift, just select "monthly donation" when entering your information.