The Fearless Table: Creating Community through Gourmet Lunches
June 29, 2015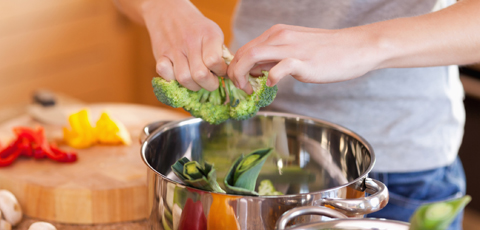 "Their faces nearly always convey their astonishment at being offered Moroccan roast chicken with fried chickpeas, sautéed kale, and a preserved lemon raita for only $5."
Susan Wilkins shares her experiences of catering for students, professors, and the wider UBC community during Regent's Summer Programs. Susan is completing her MA in Theological Studies with a concentration in Christianity and the Arts.
A wise woman once remarked that it's a radical act to pray before rather than after a meal. When we do so, we offer our gratitude for what we have not yet received. This practice trains us in the belief that God's faithfulness remains unchanged, even when we're still hungry. As a result of this practice, we, his people, can be identified by our lack of fear, allowing us to be generous and hospitable in all circumstances.
I have witnessed this kind of fearless hospitality at Regent, a good part of which emerges—perhaps not surprisingly—from the kitchen. Over the course of my four years as a student, Regent has employed me to cook on all sorts of occasions. This includes making lunches twice a week for all students, faculty, and staff during Spring and Summer terms so that the Regent community can share a common meal. As I stand in my apron, ladle in hand, I have witnessed people from far-flung places on the globe meet and discuss the mysteries of the Eucharist, the decadent decline of Western civilization, the sacramental in Flannery O'Connor's literature or—marvellously—exchange stories of God's faithfulness that is unfolding all over the world. Clearly, this is good stuff.
Even so, my keenest delight has been in my encounters with the UBC community who sheepishly approach the table to ask if the meal is only for Regent students. I also love it when, once they learn that anyone can purchase a lunch, they come back not just week after week, but year after year. Their faces nearly always convey their astonishment at being offered Moroccan roast chicken with fried chickpeas, sautéed kale, and a preserved lemon raita for only $5. These are the people I most love to feed because they—as outsiders—help me—an insider—see this act of hospitality most clearly.
Two recent interactions come to mind. The first occurred when I was stopped by a woman working just outside the kitchen door. She told me that she was a researcher at UBC who frequently comes to Regent to work, because she appreciates that "people talk to each other here." "Outside of here," she continued, "people sit alone, working intently and staring at their computer screens. These lunches feel like a family meal." Inside, my heart beamed and I assured her that she was always welcome.
The second exchange occurred on my last day of catering this spring, after the main rush of students had come and gone. As I waited for the few inevitable stragglers, a man in his sixties approached me and asked the cost of the meal. When I told him he exclaimed in shock, "You can't possibly be making any money if you only charge five dollars," glancing again at the table laden with food. "That's true," I replied, "but we're not trying to make money. We provide this meal as an act of hospitality, so that our students will have a chance to talk and get to know each other." He told me that he makes his living by lecturing all over the world about the benefits of happiness on your health. "Do you have to believe in Jesus to come here?" he asked. "No," I said, "but you'll find that most people do."
It's people like these two "outsiders" who help me to see the true nature of this act of hospitality. They remind me that we're surrounded by a culture that gathers all it can, even at a table laden with food, convinced that scarcity is just around the corner. I am glad that Regent is a place that understands that God's generous and fearless nature is conveyed not just in word but also in scent. Offering the love of God in the scent of butter and bacon invites outsiders to become insiders—without the whiff of fear.
Go to Summer Programs website