Regent College will be at Urbana 2015: Visit Us at Booth 128!
December 07, 2015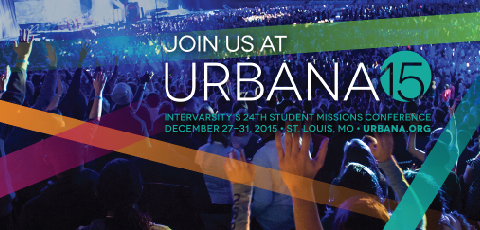 Regent College will be an exhibitor at Urbana 2015. This year's event is in St. Louis, and runs from December 27 to 31. Urbana is a large-scale, empowering missions event held every three years and is the most diverse gathering of students, recent graduates, missions practitioners, and church leaders in North America.
Planning to be there? Stop by our booth #128 to say hi!
In addition to meeting prospective students, Regent staffer Madison Lyonhart would love to connect with alumni.
Madison is seeking some volunteer support to help maintain Regent's booth at the Conference. Details and sign-up are here.

Madison will also be having lunch with alumni on December 30 at 12:30-2 pm at Mango. Please RSVP directly to Madison (mlyonhart@regent-college.edu) by December 27, and please plan to pay for your own lunch.
For more information, contact Madison at mlyonhart@regent-college.edu.
BETWEEN A SHOE AND THE ROOF SCREENING
Regent College will present Between a Shoe and the Roof at Urbana on December 31, 3:30-4:30 pm in America Center Room 231. The film explores the relationship between Christianity and cultural identity, inviting viewers to wrestle with the question, "How do we live in that challenging place where the gospel and culture meet?" Watch the trailer below, and please join us for this presentation!