ReFrame Launches Spanish, French & English Subtitles
November 24, 2015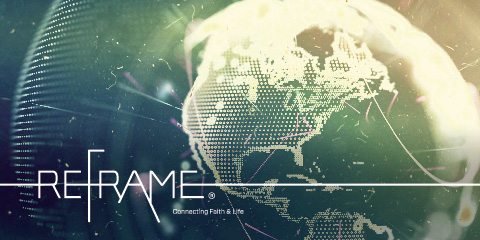 "Regent had such a formative impact on our lives as students. ReFrame enables us to share some of this with emerging leaders around the world." - Sarah Breuel (MDiv '09)
The Marketplace Institute is delighted to announce the release of ReFrame with Spanish, French, and English subtitles in both digital and DVD formats.
Following its release a year ago, ReFrame—a film-based discipleship course for small groups —has been steadily gaining interest around the globe. We are thrilled that these translations will enable us to engage an even wider audience.
Regent had always hoped to work on translation when the time was right, and an opportunity to partner with Lausanne Younger Leaders seemed just such a moment.
In March of last year, Regent alumna Sarah Breuel (MDiv '09), a member of the leadership team for the Lausanne Younger Leaders Gathering, contacted the Marketplace Institute to inquire about a possible partnership. Sarah and her husband René (MDiv '09) had watched ReFrame and found that it deeply resonated with their student experience. "We are so excited to partner with Regent," says Sarah. "Regent had such a formative impact on our lives. ReFrame enables us to share some of this experience with emerging leaders around the world. The curriculum provides a strong biblical foundation for mission and will invite participants in every country to see their unique part in it."
The Young Leaders gathering will draw together 1,000 young leaders from over 150 countries in August 2016 to "pray and discern together God's leading of their generation for his global mission." In anticipation of this event, delegates have access to ReFrame with French, Spanish, or English subtitles as well as an opportunity to engage with one another around the material in an online discussion board. As leaders prepare for the gathering, the hope is that the material will provide a springboard for discussion around mission in each participant's context, as well as around what God is doing globally.
So far, feedback from participants around the world has been inspiring. Oscar Danladi Fwangmun, a Nigerian participant, writes, "I am just wowed by this video and the consequence of the story we hold onto. We are surrounded by many stories, but it's only the biblical narrative that is true and comports with reality." A delegate from Argentina who viewed the films in Spanish writes, "God's story is our story... Wow! It's very clear now the calling of the Christian in this postmodern world." From Africa to Argentina and beyond, ReFrame has begun to transform individuals' views of their own lives, and their particular role in God's mission, one story at a time.
Future translations
We're delighted to announce that we have recently secured funding for Mandarin and Korean translations. This will enable us to respond to numerous requests and support Christians around the world as they seek to integrate faith with all of life.
The cost of translating ReFrame into multiple languages has been generously supported by donors with vision for global impact. There is still opportunity to join these visionaries as we seek to complete project funding for French and Spanish subtitles. Would you consider joining the Translation Support Team through a donation?
More about ReFrame, including previews, stories of people who have been impacted, and how to purchase the material can be found
here
.