Japanese Art & Christianity: A Weekend in New York City
August 20, 2015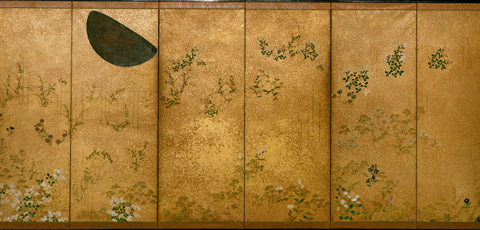 "Mako Fujimura has been researching art and faith in medieval Japan because of his interest in the work of Japanese author Shūsaku Endō."
Image Credit: Moon and Autumn Grasses, Studio of Tawaraya Sōtatsu (Japanese, died ca. 1640), courtesy of the Metropolitan Museum of Art (www.metmuseum.org)
On July 10-11, 2015, Regent College partnered with the Fujimura Institute to host an arts weekend in New York City. The weekend featured a visit to the "Discovering Japanese Art" exhibit at the Metropolitan Museum of Art guided by Mako Fujimura, an internationally renowned artist and scholar with unparalleled knowledge of Japanese art. Regent faculty members Jeff Greenman and Phil Long provided additional biblical and theological reflection on Christian engagement with the arts. Deborah Fung, who was instrumental in making this event happen, reflects on the weekend and its highlights. Fung, who graduated from Regent College in 2013 with an MDiv degree, is currently studying Nihonga art through the Fujimura Institute, serving on the ministry team of Redeemer Presbyterian Church, and providing therapeutic art classes at the Children's Museum of the Arts in New York City.
The highlight of the weekend was hearing Makoto Fujimura share stories of Christian witness from the history of Japan. On Saturday morning, he led a guided tour of the exhibition "Discovering Japanese Art" at the Metropolitan Museum of Art. Fujimura directed our attention to the landscape painting Moon and Autumn Grasses from the Studio of Tawaraya Sōtatsu (mid- to late 17th century), which features a large moon. He explained how this painting represents the relationship between hiddenness, beauty, and Christian martyrdom in Japan. The moon, originally rendered in silver, has oxidized over time and turned into a black shape. Furthermore, the moon is neither a crescent shape nor spherical, but rather a bowl shape. Fujimura drew connections between this phase of the moon and the year of this painting to a historical account of the life of the influential grandmaster of tea, Rikyu. In one account, Rikyu served a political ruler with a black tea bowl to protest a planned military campaign. While it is not recorded that Rikyu was Christian, his wife and five of his seven disciples were. The extent of the influence of Christianity and its possible hiddenness in the art of tea and other Japanese art is yet to be discovered.
Mako Fujimura shared with us another story from an earlier period in Japan's history. Fujimura explained to the class that during the persecution of Christians in medieval Japan, bronze tablets were created bearing an image of Christ. Because the Japanese have a symbol-rich and visually sensitive culture, it would be especially difficult for Japanese Christians to perform an act of desecration against an image of someone they revered. Those who refused to step on the image of Christ and spit on it betrayed their faith and were executed. Ironically, the sculptor who was commissioned to create the first of these bronze tablets had created such a beautiful impression of Christ that the authorities insisted that he too must be a Christian and executed him.
Mako Fujimura has been researching art and faith in medieval Japan because of his interest in the work of Japanese author Shūsaku Endō. Since he's become somewhat of an expert on the writing of Endo, he's been invited to serve as a consultant for Martin Scorsese's forthcoming film project based on Endō's book Silence. Mako's own book, Silence and Beauty: Hidden Faith Born of Suffering (IVP), will be out next fall.
Another highlight of the weekend was hearing Phil Long share personal reflections on how art helped him understand biblical scholarship, and how much personal joy he gets from painting. Long demonstrated to the class how a beautiful landscape painting contained many more beautiful fragments of abstract painting within it. Finally, he propounded that when one beholds beauty, one glimpses God himself.
The richness of this trip was heightened by the diversity of the participants: twenty-five attendees from the US, Canada, Puerto Rico, and New Zealand. These participants were diverse in careers as well, and included tour guides, writers, artists, performing artists, curators, scholars, engineers, teachers, pastors, composers, and students.
The main purpose of the weekend was to offer participants a taste of Regent College, albeit adapted to a New York City audience, as well as to provide an opportunity to reflect on art and theology with an artist and Bible professors. A secondary purpose was to pilot a Regent extension in the Northeast US and develop partnerships with Christian educational institutions so that students might have the richer opportunity of shared resources. Cultivating these partnerships between institutions is one of the ways that the Fujimura Institute does culture care.
We anticipate another partnership event between Regent College and the Fujimura Institute on the topic of art and faith at Cairn College near Philadelphia, PA in the summer of 2016.
Read more news