Board of Governors Welcomes New Members
November 30, 2015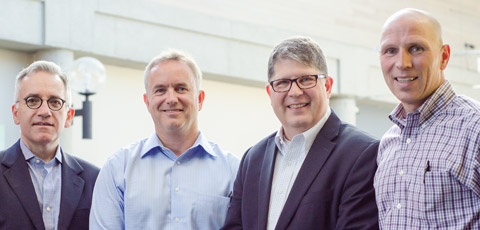 "Each of these new Board Members brings a fresh perspective and a unique skill set that will be of enormous service to the College"
The Board of Regent College is thrilled to welcome four new members. Michael Boda, Jim Hurlburt, Dean Miller, and Jonathan Tucker were officially appointed to the Board in October 2015.
In welcoming these new board members, Board Chair Roger Laing noted, "as Regent steps into a new season, we are committed to strengthening our Board to ensure the furtherance of our mission and the stewardship of our resources. Each of these new Board Members brings a fresh perspective and a unique skill set that will be of enormous service to the College. Their depth of experience and collective wisdom round out and enrich our existing Board, and their enthusiasm for Regent's mission is boundless. We are thrilled to welcome these Members onto the Board."
The new appointees come from a wide range of professional and educational backgrounds, including both alumni and friends of the College. Board Member Shaila Visser succinctly expressed the Board's enthusiasm over the new Members, commenting: "the experience they bring ensures that the future of Regent is healthy and vibrant. From business acumen to accounting and legal expertise, these new Members are humble, smart, and passionately committed to Jesus."
---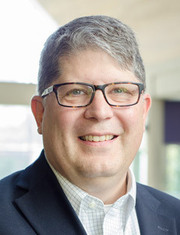 Michael Boda—Chief Electoral Officer, Province of Saskatchewan
"In a secular context, we spend a lot of time focused on building our resumes and figuring out how we can be better at what we do. But Christians don't spend enough time trying to figure out how to be better Christians. We should be focused principally on how to live our Christian lives well."
Michael Boda grew up in Western Canada and has been aware of and influenced by Regent College for decades. He is a passionate supporter of Regent's work in supporting devoted and healthy Christian lives in every sphere of life and work. He particularly appreciates the fact that the College does not simply cultivate academic understanding but is "full of people who are serious about faith."
Boda is the Chief Electoral Officer of the Province of Saskatchewan, a Fellow at the Johnson-Shoyama Graduate School of Public Policy, and an international election consultant and advisor. He has been engaged in public service around the world for more than two decades, serving institutions including the United Nations and the International Foundation for Electoral Systems. Boda brings to the Board a thorough understanding of both public and academic institutions, along with an awareness of the unique characteristics that distinguish and impact the operations of educational institutions. He hopes that his passion for planning and good governance will be of particular service to the Board.
Boda is excited at the opportunity to serve Regent College and looks forward to supporting its integral role in building up the church in Canada and around the world.
---
Jim Hurlburt—General Director, Labour Relations, BNSF Railway
Alumnus
"Integration of faith and life is clearly one of the great needs in human life. Addressing this need in real and meaningful ways is what I experienced as a student at Regent College, and for which I will be forever grateful. Wanting to help Regent College continue this critical redemptive work and mission with a new generation is precisely why I wanted to join Regent's Board.
"Regent's mission of a 'more fully integrated life in Christ' leads to a truly 'good life.' Our mission is Jesus's core mission, and it produces actual, positive life change."
Jim Hurlburt is another alumnus motivated by gratitude for and commitment to Regent's holistic approach. Hurlburt graduated from Regent with a strong sense of call to minister in the marketplace. He has followed that call, pursuing a career in business and seeking to help others "understand how God is with them, both in divine presence and resources, right where they are in their unique place, role, or function —in short, to realize that the primary context for their discipleship is the workplace." He is committed to a vision of business as "a strategic part of God's design for the world, …a structure of love."
Hurlburt's deep commitment to Regent's mission is augmented by extensive experience in business and law. He has spent the last decade guiding BNSF, the second largest railroad in North America, through a process of careful and constructive change. The primary challenge of his work has been implementing a clear vision for the future while maintaining the company's core values. He hopes to bring that experience to bear on his service to the College.
Hurlburt observes: "I believe I have a strong sense of what Regent is really about, and I'm eager to partner with others in delivering our truly unique value proposition to a new generation. The Regent mission is beautiful and indispensable for this world that God so loves."
---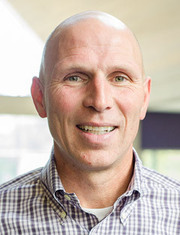 Dean Miller—Rector, Church of the Ascension
Alumnus
"Regent's mission underpins the way I live, in all the vocations of my life: son of God, husband, father, priest, soccer coach, neighbour, brother, son. It reminds me that God gave us a holistic, seven-day opportunity to live out the mystery of Jesus, crucified, resurrected, ascended."
Dean Miller and his wife Mary Ellen are alumni of Regent College. They can (and frequently do) attest to the profoundly formative impact of a Regent education. Miller considers his service on the Board to be a small expression of indebtedness for his and Mary Ellen's educational experience at Regent. He is committed to building on Regent's past strengths in order to continue providing current and future students with a spiritually supportive and vocationally formative theological education.
Miller is currently serving as an Anglican priest. However, broad career experience in both private industry and full-time ministry has given him a unique appreciation of the value of a Regent education for both the laity and the clergy. Commenting on this wide range of experience, Miller notes that each of his varied roles has provided "a chance to lean into living out the Regent mission on a day-to-day level." He is currently engaged in ongoing conversations within Anglican networks regarding means of bringing theological education to both lay and clerical members of the church. He hopes those conversations will inform his work on the Board.
Above all, Miller notes, "the dominant emotions I take into being on the Board are wanting to honour those who have gone before us and be responsible to those who will come after."
---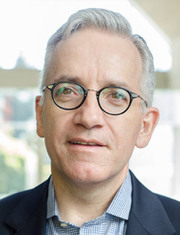 Jonathan Tucker—Chartered Professional Accountant, CA, LPA
"I appreciate the breadth of Regent's mission: a joyful, vigorous commitment to Jesus Christ, His Church, and His World."
While Board member Jonathan Tucker has never attended a Regent course, he is deeply committed to its mission. Tucker was introduced to Regent College in his childhood by a missionary aunt with connections to Regent Professors Jim Houston and J.I. Packer. However, his personal commitment to the College arose more recently. After attending a series of weekend sessions in Toronto led by Professor Bruce Hindmarsh, Tucker began to explore Regent's mission more closely. He quickly became a devotee of Regent's audio resources and a close friend of the College. Tucker and his wife Kerry are faithful ambassadors for the College in the Greater Toronto Area.
Tucker has more than twenty years of experience as a CPA and an entrepreneur. He currently operates a tax and business advisory practice oriented toward professionals. He has extensive experience serving on the boards of Christian non-profit organizations and professional associations. He hopes to bring his judgment and expertise in governance, finance, and business to his service as a Board member.
Tucker notes his gratitude both for the inspiration he has received from Regent's materials and for the relationships that he has developed through his association with the College. Explaining his decision to join the Board, he notes, "[Regent] has fed me over the years and I want to share it with others."
Please join us in thanksgiving and prayer for these new Board Members as they enter into their important and challenging work on behalf of Regent College.