Katharine Hayhoe's Talk on Climate Change Is Now Online
May 25, 2015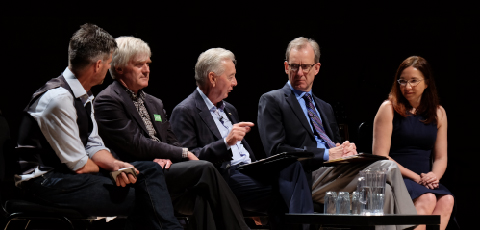 "A wonderful and hopeful evening."
"I left saying how positive and hopeful I felt!"
Comments like those above do not normally follow a presentation on climate change. Yet "hope" was the word that sprang to mind for many of the attendees of the Earthkeeping: A Climate for Change event, co-presented by A Rocha Canada and Regent College in Vancouver, BC, on May 7, 2015.
The event featured a presentation on faith and climate change by atmospheric scientist Dr. Katharine Hayhoe, followed by a response panel featuring Peter Robinson (CEO, David Suzuki Foundation), Preston Manning (former Leader of the Opposition), and Jeffrey Greenman (President, Regent College).
Keynote presentation by Katharine Hayhoe
Speaking to an audience of over 800, Katharine Hayhoe did not shy away from the hard facts. Climate is changing, contends Hayhoe, because of our actions, and therefore our choices matter. We can choose to lessen our impact on the climate. We can choose to adapt to the effects such as drought, rising sea levels, and storms of increasing intensity. And we can choose the degree to which we will suffer.
"This is where the science stops," says Hayhoe. "How do we determine where to go with these choices? How do we determine what's too much suffering? How do we determine what's enough mitigation? The science doesn't answer those questions."
She continued, "here's the problem. When we hear people talk about climate solutions, they use words that raise fear in people. Fear about change. Fear about economic hardship. Fear about taxes." For Hayhoe, this is where faith and values come in. She turns to Christianity's sacred text and to Jesus's call to love our neighbour.
"Let's use love to consider how our actions are impacting other people," she concludes. "And let's move forward not in fear, but in power—recognizing that we can accomplish great things."
Response Panel
Following Katharine Hayhoe's talk was an equally unique and encouraging response panel. In his opening remarks, Peter Robinson commented, "seven years ago, when I joined the David Suzuki Foundation, if someone had told me I'd be sitting on a panel with Preston Manning, the President of Regent College, and a Christian climate scientist, I likely would have laughed."
"They might have fired you," chuckled Preston Manning.
"David might have fired me!" laughed Peter. "But in that picture is a glimpse of the way forward."
Jeffrey Greenman agreed wholeheartedly. He asked fellow panel members how to best mobilize similar diverse coalitions based on a common value.
For Manning, one of the solutions is economic. "For every economic activity there are negative environmental consequences. We should determine what those are, and put the cost to mitigate or avoid them into the price of the product."
"I love what Preston said. That's an important way forward," agreed Peter Robinson. "As part of the solution, in addition to the economics and the faith, is this notion that individuals actually have to get re-engaged on this issue."
Expanding on a concept he refers to as "agency," Robinson explained that people have disengaged from acting on climate change because the problem is complex, distant, and much bigger than just one person. In doing so, individuals have delegated their "agency" (or ability to make their own choices) to government, business, or environmental organizations.
To re-engage individuals, Robinson referred to Hayhoe's examples of sustainable solutions that are already happening. "Nothing will help us get out of this morass than the sense that there's momentum, that there's excitement, that these solutions exist, and that we can do something about it."
Musical Guests Sheree Plett and Jeremy Eisenhauer
The event also featured live music from Sheree Plett and Jeremy Eisenhauer. "Plett and Eisenhauer are a married pair of songwriters who have earned their keep playing music all over the continent for the last ten years. Vancouver was home for the couple and their kids until the mystical mountains of the Kootenays called them East. Their harmonies blend traditional alt-country with modern folk, combining the great sounds of the past with new innovation and depth."