Iwan Russell-Jones in the Balkans: Art, Faith, and Social Change
August 13, 2015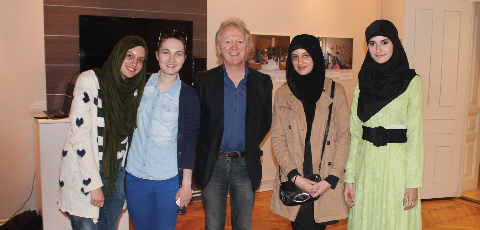 "People in the former Yugoslav republics are using the arts as a way of reaching out to their communities, of making connections—as a point of contact in what might otherwise seem an unpromising context."
In June 2015, Iwan Russell-Jones spent two weeks in Bosnia-Herzegovina and Macedonia, teaching about documentary film, meeting local artists, preaching, and being interviewed by various media outlets about the value of public broadcasting. We asked him a few questions about how the arts in these former Yugoslav republics are transforming public dialogue and inspiring a new generation of filmmakers.
Q: What took you to this part of the world?
IRJ: It began with a conference on Christianity and the Arts that I attended in 2013 in Aix-en-Provence in France, organized by the International Federation of Evangelical Students (IFES). At that conference, there were a lot of people from Eastern Europe, including former Yugoslav republics. I was particularly interested in these folks, because they were using the arts as a way of reaching out to their communities, of making connections—as a point of contact in what might otherwise seem an unpromising context.
I got talking to Saša Nikolinović, an artist and pastor from Sarajevo, who knew somebody in Sarajevo who runs a filmmaking course for young people, and he asked if he could put us in touch with each other.
Eventually, I heard from Petula Myers, one of a group of Americans living in Sarajevo who founded and run the Izvor Foundation. Izvor means "the Source"—the source for a more beautiful life. It's a kind of community art and educational centre that tries to reach out to the community. One of the things they do is run a filmmaking course for high school students. The students get taught the principles of filmmaking and storytelling and at the end of the course, they get to shoot their script and make a 5- to 6-minute film. Petula asked if I'd be willing to judge the films, and that duly happened last year (in 2014).
Following that, Petula invited me to Sarajevo to actually go into some of the schools to talk about filmmaking as a way of deepening their connections with the community. So she sorted out an itinerary, which included speaking at the International University in Sarajevo, which has a filmmaking department.
Another participant in the conference at Aix-en-Provence was Nada Milkovic from Skopje, Macedonia. Nada and her husband Kosta Milkov have set up a very exciting venture called the Balkan Institute for Faith and Culture, and I promised her that if I was going to be in the area, I'd let them know. So they invited me to come to Macedonia.
Q: What is the atmosphere like in these places, after the break-up of Yugoslavia?
IRJ: Obviously, the situation in these former Yugoslav republics has been quite difficult, especially in the last 20-25 years. There was the break-up of Yugoslavia, then dealing with these massive cultural, religious, ethnic differences in each one of these republics.
Bosnia-Herzegovina especially has a very turbulent history. In the middle of the 1990s, Sarajevo was under siege for three years—the electricity cut off, the water cut off, being bombarded regularly by the Serbs. All these terrible things were going on. And then of course, 20 years ago there was a terrible massacre at Srebrenica, where 8,000 Muslim men were singled out and killed. Just on July 11, there was a memorial to this massacre—the worst since WWII in Europe. The Prime Minister of the Serbs attended the memorial as a gesture of reconciliation. He was attacked, people threw stones at him, it turned really violent and nasty. So you can see that ethnic and religious relations are still a serious issue in these places.
Q: What were some of the other pressing issues for people on the ground?
IRJ: My film on Martin Luther King, American Prophet, really struck a chord. The amazing thing about King is that although he was a Christian minister—a religious man involved in politics, which in the Balkans spells danger—here was a political and spiritual leader who wanted to do something positive for the whole community. He wanted to establish rights for everybody, not just one particular group. And yet he did it out of a religious motivation. At the heart of his method of non-violent, passive resistance is the deeply Christian conviction that you don't destroy your enemy, you try to convert your enemy. So they were really interested in that.
They were also really interested in talking about my experience at the BBC. The BBC obviously is a public service broadcaster and in the kind of context we're looking at in the Balkans, public service is a tremendously important notion. In a lot of these communities, media outlets and political parties are owned and organized along religious and ethnic lines. Where does a public conversation take place? That's exactly what an organization like the BBC is all about. It's about fostering a civil public conversation. Yes, we can talk honestly about our differences but in a way that is nevertheless civil and respectful. And the conversation is allowed to grow and flourish.
There's a public service broadcaster in Macedonia and in fact, I was asked to do an interview by them. It's more difficult in Bosnia-Herzegovina. The Izvor Foundation in Sarajevo is really trying to reach out to the community and get these kinds of conversations going—talking about filmmaking, documentary, telling it like it is. That's what documentary does.
Q: What's the spirit of the young people there, who didn't live through the war, but are certainly growing up with the stories and the aftermath?
IRJ: They're aware of the history. For example, in the middle of Sarajevo is a museum documenting what happened in Srebrenica. Sarajevo is a predominantly Muslim city, but you have Serbian Orthodox and Catholics, too. Many of them fought alongside each other during that time—they were all under bombardment. So I think there's a mixture of feelings. There's obviously an awareness that terrible things happened and could happen again, and yet on the other hand, a frustration with the politics of the place.
The Dayton agreement, which brought an end to the civil war, set up various institutions and mechanisms in Bosnia to prevent these conflicts from happening again. But it created a labyrinthine political system with at least three separate governments and a number of autonomous zones, each of which is getting public money. There is a lot of frustration that it seems impossible to get anything agreed and done right across the communities and that it's almost the vested interest of politicians to keep these very different systems going, because they've got power within them. So I met a lot of people who seem jaded, tired with it all.
And yet on the other hand, there's incredible idealism among young people. There's a real tradition of filmmaking in the former Yugoslav republics and a desire to make films of all kinds—features as well as documentaries. I met a cameraman who was part of President Tito's personal film unit in the old communist days. Tito was a big fan of movies and encouraged the growth of a film industry in Yugoslavia. His personal favourite was Westerns. When the Bosnian conflict was going on, this cameraman was living in the middle of Sarajevo and filming every day. He knew where he could go and film relatively safely and still get amazing stories. Some of the situations he was in were really hair-raising. He's now one of the tutors on the Izvor course for high school students. So they're learning from someone who has amazing experience in documentary filmmaking.
Q: This all speaks to the power of storytelling—getting the stories of pain out there. You have to acknowledge what happened before you can move on.
IRJ: And this is how the arts are being used in this context. The Izvor Foundation in Sarajevo hosts art exhibitions, photographic exhibitions. Similarly, the Balkan Institute in Skopje also has a venue—the Metanoia Literary Café. Conversation happens there, they're showing films, publishing books and poetry, they're hosting artistic evenings. It's a remarkable indicator of the way in which the arts are seen as important, as a way of facilitating conversation.
Q: Tell me more about your time in Macedonia.
IRJ: Nada and Kosta Milkov are an amazing couple. Kosta has a DPhil in theology from Oxford. He's an expert on Orthodox theology, and is an evangelical pastor. He's a poet, a writer, a great speaker. And Nada is an imaginative and creative publisher. And so together, in the Balkan Institute of Faith and Culture, they're trying to get a public conversation going about what really matters to people in Macedonia.
I also met a Regent alumnus, Nikola Galevski , who's a pastor in Skopje and has great memories of his time in Vancouver. He said to me, "this is the first Regent reunion in the Balkans." Skopje is an incredible place. Macedonia—which at the insistence of Greece is officially known as The Former Yugoslav Republic of Macedonia—is a new country trying to establish its identity and some of the ways in which it's doing this seemed a bit bizarre to me. There's a massive statue of Alexander the Great at one end of the central plaza, and at the other end, a huge statue of his father, Philip of Macedonia—symbols of power and military right. As I was looking up at the statue of Alexander, I realized I was standing on a plaque. I looked down, and it said, "in this place was born Mother Teresa of Calcutta"—she's from Skopje. All she got was a plaque. But it made me realize the impact Skopje has had on the world.
Q: Last thoughts and next steps?
IRJ: Petula and I are talking about the possibility of opening an internship in Sarajevo for a Regent student. That would be really brilliant. It's important for us to look outwards, to go out into the world.
Places like Sarajevo are amazing challenges to us in the West because they partly are the West—Bosnia-Herzegovina is trying to enter the European Union, and in many ways Sarajevo is a thoroughly recognizable western city. And yet you've got these divisions there that are really serious and difficult and it makes you realize the challenge of pluralism and the importance of developing a serious appreciation of what secularity means.
We're often very critical of the "secular West," but actually, secularity's got a lot going for it because it allows people of all religions, all persuasions, and of none, to have a voice in society. And that's absolutely critical. It's important to learn from the experience of people in places like Bosnia-Herzegovina and Macedonia about the challenge of living with our differences.
Read more news