Interning at the Grünewald Guild: Reflections from Andy Stromberg
July 21, 2015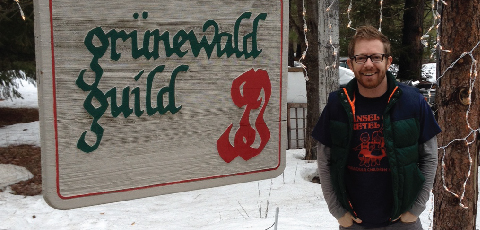 "The Guild is a place where you don't have to be anybody other than who you are, exactly where you are at. This applies to your artistic skill (or lack thereof), your faith (or lack thereof), and whatever else you are bringing to the table."
In February 2015, Regent College announced a new Arts Internship Program, enabling emerging artists at Regent College to integrate their faith with their art. One of the arts organizations that agreed to offer internship experiences to Regent students was the Grünewald Guild, an ecumenical Christian organization in Leavenworth, Washington, that's committed to exploring the transformative power of art and the sacred within the context of community.
Andy Stromberg was the first Regent College student to take advantage of the internship, spending January to June, 2015 at the Guild. He reflects on his experience in the article below, originally published on the Guild's blog. Andy Stromberg is currently completing his Master of Arts in Theological Studies with a concentration in Christianity and the Arts. His music is available at andystrombergmusic.com.
---
Ah, the Grünewald Guild. What a peaceful and encouraging and curious place. Art creating community and community creating art. Faith binding together teachers and students, seekers and doubters, oldtimers and newcomers as they sip coffee from clay mugs under whispering pines. The Guild feels like a living embodiment of the art from which its ethos springs; it is meaningful, yet somehow just beyond description.
So, of course, I must try to describe it. Maybe all this sounds too ethereal and vague, but those of you who have been will know what I mean. I am not really a writer, but the Guild feels like a place where I could be.
I recently interned there through a program at Regent College in Vancouver, BC. As one of my final tasks, I thought I would reflect a bit and try to articulate what I've gotten out of my time. It has taken me about a month to figure out what to say, mostly because the Guild is so very difficult to write about. It really must be experienced to be understood, like love or grief or colour. But this is my attempt, which I hope will be helpful to those of you who have not yet been, and respectful to those of you who know the Guild far better than I do.
And so, here are a few words that come to mind when I think about the Grünewald Guild.
Rest
The Guild is a place where you don't have to be anybody other than who you are, exactly where you are at. This applies to your artistic skill (or lack thereof), your faith (or lack thereof), and whatever else you are bringing to the table. It is an invitation to take a step back from producing so that you may belong. "Your presence is your gift," as Director Dan Oberg mentioned to me on more than one occasion.
Whether in the art world, the church world, or the private sector, this is a message we rarely hear in our busybodied North American culture. We can internalize messages like "time is money" to the point that we see our only value as existing in what we can achieve. This is the model that values efficiency as its highest expression of good, which leaves little time for activities like reflection and meandering conversations with good friends. It is the value that ends up producing cheap, shallow art and burned-out pastors.
In this context, the Grünewald Guild serves as a refuge. It is indeed difficult to be overly efficient on a property with multiple hammocks! The landscape itself seems to encourage long walks over deadlines, reverent contemplation above strained artistic exertion. Whether through the content of a workshop, or the chance to put your feet up on the back porch and let your mind wander, the Guild provides a pressure release from our often output-oriented culture.
Communion
Of course, this word will have strictly religious overtones to many of us. It may spark images of wafer-thin discs and plastic shots of grape juice, holier-than-thou language, and our own failure to measure up. These religious associations, though rooted in Jesus's words to his disciples, seem to me shallow reflections of the deeper reality to which Jesus was (and is) beckoning.
Communion may also be defined as "the sharing or exchanging of intimate thoughts and feelings, especially when the exchange is on a mental or spiritual level." We commune with God through the wine and the bread, yes, but this is not the limit of our connection with our Creator. We commune through prayer, through creation, through service, and indeed through each other (Matthew 25:37-40; Romans 12:4-5, etc.).
In this vein, I think of moments I experienced at the Guild as powerful examples of communion. Moments where I felt known and took risks to know others. Moments where vulnerability was chanced in art and met with warmth and enthusiasm. Moments of peaceful reflection, brought on by a stroll to the river or an evening prayer service. Moments in which I felt God's encouragement through the care and conversation of a newly minted friendship.
Things like this, I think, lie more at the heart of Jesus's intention for communion than what we often experience in church. In one aspect, Jesus simply shared a meal with his closest friends and asked them to remember him in the daily rhythms of their lives, their eating and drinking. At the Guild, many meals are shared as well, and we recall the roots of our faith by wrestling through their present-day expressions.
Sacred Irreverence
Lest it sound like the Guild is some sort of pie-in-the-sky monastery, I should also mention that the Guild readily invites silliness. Not immaturity or ridiculousness for its own sake, but joy and humour and irony with trust as its foundation and hope as its guardrail. No topic is off limits; no heartfelt observation gets dismissed, so long as we all agree to not take ourselves too seriously.
Faith and art and the church, after all, are far too serious subjects for that.
Openhearted Imperfection
I do not mean to suggest that the Guild is a pristine artistic utopia. With all of this flowery praise I know I run the risk of flattery, or endorsement that fails to account for potential spots and blemishes.
It is by no means a perfect place. However, I do not think it intends to be. There is an embrace of imperfection both in the community and its art that makes space for you and me. A perfect place would have no room for me and my ramshackled offerings. Its imperfections, it turns out, are an invitation to participate with all the gloriously amateurish paintings and prayer we can muster.
A poem to the guild
Well, this is longer than I expected, and probably a bit verbose for its intended purpose. What I really want to say is that I enjoyed my time at the Guild, I am grateful for the group ethos and the hospitality I was shown, and I hope more folks are able to pass through its doors to experience the rest, community, and faith I found so refreshing.
I leave you with a poem I wrote a few days ago, as I was working to find the words to pay homage and record my thoughts. What a more fitting way to end an 'arts' internship than with a bit of homespun art of my own?
Dripping paint and pine needles
Earth, clay, and lentil soup
Laughter, long walks, and space
Oh the space!
Trees reaching upwards like prayers
Grounded like pillars
Searching, whispering
My heart and Our lives
Time spent together
Under the sun, nestled in snow
Cradled by river, wrapped in mountain
And faith
Faith that questions
Faith that heals like, "Me, too"
Faith that tears down and builds up new
Faith like gentle breeze
Mystery,
Angry notes and broken pots,
Brushes and canvas and air
We pass through
And something pulls us back
Gravity like an open hand and
Hope
We move on
And something pulls us back
Kind eyes and home baked bread
Beauty and Lament
We move on
And take you with us
Keep us here
And at the Perfect Time
We will all return, and grin.
Thanks for reading.
Andy
Arts internships at Regent