Iain Provan on His Humboldt Grant and Martin Luther's Popularity Crisis
June 10, 2015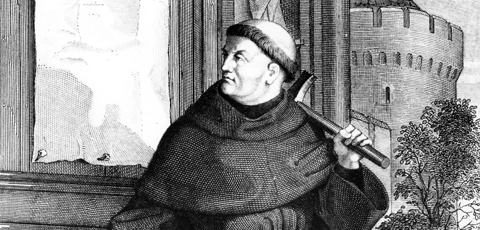 We are presently living in a period in the evangelical church that is marked by amnesia about the past, if not downright hostility to it.
In March 2015, Dr. Iain Provan received the prestigious Alexander von Humboldt Foundation research grant, enabling him to conduct research in Erfurt, Germany this fall. He will stay in an apartment in the old university building in the centre of Erfurt, which is where Martin Luther was ordained and lived as a monk. Dr. Provan will work on his new book, to be published in 2017 to coincide with the 500th anniversary of Martin Luther posting his 95 theses on the door of the castle church in Wittenberg, which is just a few hours north of Erfurt. We asked Dr. Provan a few questions about Martin Luther, especially why the eminent figure of the Protestant Reformation is suffering from a popularity crisis.
Q: Can you tell us more about your book? What's Martin Luther's place in it?
IP: The book is about the viability of Protestant hermeneutics (i.e. how we should rightly interpret our Bibles) for the 21st century. There seems to be a lot of doubt about this at present in many of our Protestant churches and seminaries—a loss of confidence in both our Protestant heritage and in the ability of Scripture to function in the ways that Protestants have traditionally thought it must. Martin Luther is my starting point, for obvious reasons!
Q: What fascinates you about Martin Luther?
IP: Among many things, the most important for me is his own developing sense of how Scripture, comprising both an Old Testament and a New Testament, can truly function as the Christian's rule of faith and life, which is bound up with his grasp of the true historicality of biblical faith—the way in which the living God has always met with real people throughout history and revealed himself to them, such that we can learn from all of them. I'm also impressed, frankly, just by the man's raw courage—by the depth of conviction that led him to oppose so many of the powers of the day and to take his stand on what he was convinced was true and right.
Q: What were Luther's most controversial theological claims?
IP: I suppose that many people would expect me to highlight justification by faith in answer to this question. But I'm going to draw attention instead to the idea that Scripture was able, and should be allowed to, call into question the teaching of the contemporary church. That was a fundamental issue at the time, and it remains so today.
Q: We're running a course this summer titled "Martin Luther: (Forgotten) Father of Evangelicalism" and so far, the course hasn't been as popular as some of our other ones. Do you think Luther is suffering from a popularity crisis?
IP: We are presently living in a period in the evangelical church that is marked (among other things) by amnesia about the past, if not downright hostility to it. Like the culture around us, we value what is contemporary and forward-looking, and we set great store by our present opinions and feelings about reality. We are just not that interested in what Christians before us have believed. It's not only Luther that falls into that "black hole," but he certainly does so.
Yet to be a Christian at all is to stand in a line of succession from the apostles down to the present—to be a member of a longstanding community of faith and practice, not just a modern individual with opinions and feelings. We cannot afford to ignore people like Luther, who are so fundamental to evangelical identity. We need to allow such people to contextualize us and to challenge our contemporary faith and practice from their standpoint in the past, and perhaps even to help us see that we're not as Christian as we thought.
Iain Provan's latest publications include Against the Grain: Selected Essays (Regent College Publishing, 2015); Seriously Dangerous Religion: What the Old Testament Really Says and Why It Matters (Baylor University Press, 2014); and Convenient Myths: The Axial Age, Dark Green Religion, and the World that Never Was (Baylor University Press, 2013).