Bruce Hindmarsh on How to Be a Saint: Turn that IPhone Off
June 30, 2015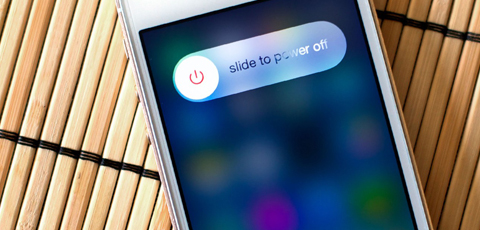 "If you could leave your phone, or turn it off for the day, you will be the salt of the earth, thrice blessed, and surely on the path to sainthood itself."
Bruce and Carolyn Hindmarsh will lead the summer prayer retreat Exploring Whole-hearted Devotion to God in the Psalms, on Saturday, July 11. We asked Bruce to answer a few questions about the importance—today more than ever—of taking time out of our hyper-busy lives for reflection and prayer. Yes, that means turning the iPhone off for an entire day.
Q: Why do you think so many of us feel distracted and anxious on a daily basis?
BH: It was a long time ago that Wordsworth said that "getting and spending we lay waste our powers," but it does seem that life has sped up in recent years with the expansion of digital media and the way both technology and the market push toward greater and greater efficiencies. I know that I find it harder than ever to settle my own heart and mind for tasks or conversations that require being really present, quiet, and attentive. It seems there is always another demand that presses in, or a notification calling me to look at my iPhone. More deeply, however, I think we all have spiritual ADD, and our hearts often find it easier to be distracted than to attend to important issues. It is the human condition.
Q: Some people believe that if we're supposed to "pray without ceasing," then it's ok to just power through our day and our list of things to do, without actually carving out time to be quiet and sit before God. What's your thought on this attitude? Why would someone set aside an entire day for a retreat?
BH: Carolyn and I talk about the need to pray "sometimes and always," and these two are connected! To be recollected to the presence of God moment by moment through the course of one's day, living attentively, and offering up all our thoughts, words, and actions to God—this is not something that can be maintained without also spending some time apart in prayer. Likewise, one's "prayer time" is less than meaningful if one plunges into daily life without a thought for God until the next "prayer time." The word "dialectical" gets overused, but here is one place where it fits. Dedicated times set apart for prayer should work together with "prayer without ceasing"—each practice enriching the other. It is a bit like a husband and wife who need to pay attention to each other in the midst of their weekly routines of life, but who also need special times apart to focus on each other—date nights and weekends away. So likewise, it may be precisely a time away for a prayer retreat that one needs to restore the sense of attentiveness and responsiveness toward God in the course of daily life. We need both a prayer life and a prayed life.
Another reason for a day apart for prayer could be that one is facing a particularly significant decision, or one is carrying a particular burden—either for yourself or for someone else. In these situations it is good to take a more extended time for prayer, discernment, and reflection.
Q: You're focusing your retreat on the Psalms. Why the Psalms in particular?
BH: The Psalms are the prayer book of the people of God and they express the full range of our human experience before God. When his prayers were becoming cool and joyless, Martin Luther said, "I take my little psalter, and hurry to my room," and there he prayed "just as a child might do." For centuries, Christians have turned to the psalms as a school for prayer, using words given by God to speak to God.
Q: For people who have never been on this kind of retreat, what can they expect from the day? What is the format you plan to follow?
BH: The day begins and closes with a short time of worship. Then the main part of the day involves sessions where we gather to look over some psalms, with Carolyn and me providing not so much a sermon as a short "director's commentary" with guidance and suggestions for how to pray out of this passage of Scripture, before sending everyone off for time alone to pray and journal. It would be great if people brought a bible, notebook or journal, and a pen. And if they could leave their phone, or turn it off for the day, they will be the salt of the earth, thrice blessed, and surely on the path to sainthood itself.
You can register for the retreat with Bruce and Carolyn Hindmarsh on July 11 here.
For more from Bruce Hindmarsh on this topic, you can find the following interviews on the Desiring God blog:
iPhone Fasting
How Facebook and Twitter Change Us
Smartphone Addiction and Our Spiritual ADD