Be Inspired: How ReFrame Is Changing lives and communities
August 24, 2015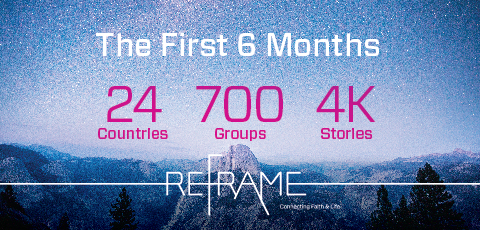 Since its launch in October 2014, the ReFrame video course has been used by small groups, marketplace ministries, and entire churches across the globe—in North and South America, Africa, Europe, and Asia. It's changing individual lives and entire communities.
A new webpage with stories
We've collected some of the stories of how ReFrame is reshaping the way people look at the world on a new Stories page on the ReFrame website.
"ReFrame has lit a fire in a group that thought it was going to be put out to pasture."
Gerry and Shirley Malnis, Small Group Leaders
Tips and Resources for ReFrame Course Leaders
We've also produced a series of promotional items and valuable leadership tips for those planning to run ReFrame this fall in their church, small group, or organization.
Staying connected
Want to learn more about ReFrame? Sign up for our mailing list. We'll occasionally send you bonus videos, new resources, and latest updates about ReFrame events and workshops.