Archie Spencer on Regent, Theology, and the Spiritual Significance of Fishing
October 29, 2015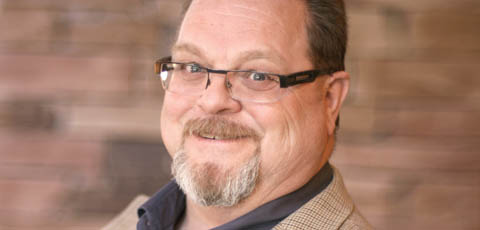 Dr. Archie Spencer is Associate Professor of Theology at the Associated Canadian Theological Schools of Trinity Western University. He is, in addition, a husband, father, grandfather, minister, and avid fisherman. A Regent College alumnus, he is spending the 2015-2016 academic year back at his alma mater as Visiting Associate Professor of Theology, teaching classes and revisiting his old stomping grounds. On Tuesday evenings from 5-7 pm he can be found at The Wolf and Hound, gathered with students and fellow theologians for a rousing weekly theological discussion known as Barth n' Brew. On Tuesday, November 17, he will be at the Regent Bookstore celebrating the launch of his most recent book, The Analogy of Faith: The Quest for God's Speakability. We asked Dr. Spencer a few questions about his return to Regent, his new book, and his fishing habit.
So how do you like being back at Regent?
Oh, Regent is wonderful. I mean, this is my alma mater! What's not to like? The place is haunted by great spirits whom I hold in very high esteem and with whom I wish I could regularly connect. It would be great to hear another lecture from Jim Houston or even the late Klaus Bockmuehl, who was one of my theology teachers here. But of course, you know, everything has its time and its season. My current colleagues are wonderful, and it's great to enjoy company with them and hear of their passion for the gospel.
You've experienced education pretty thoroughly, both as a student and as a professor at a number of different places. What do you think are the key elements in the teaching relationship, and how do you bring those into your own teaching?
My thinking about teaching was formed here at Regent. It was particularly informed, I would have to say, by the approach that Jim Houston takes toward mentoring relationships. I've been greatly influenced by the Western tradition and its idea of personal formation. I don't believe that education is just about the relay of information; I believe information affects us, shapes us, and develops us. So my goal is to help students connect with it in a way that's transformational. That, for me, is the goal of all teaching: to be involved in the transformation and in-culturing of the person. That would be the primary principle. There are lots of related corollaries, but I won't go into those.
You're an ordained minister, I understand.
Yes, I have been since 1983.
And you did quite a bit of pastoral work as well.
Yes, for—I've lost track—something like 20+ years.
What inspired you to shift into academics?
Well, I think for a very long time in my ministry I occupied both worlds. And I still try not to draw too much of a distinction between what I do as a pastor and what I do as a theologian. I'm a theologian in and for the church, to quote Origen of Alexandria. I shifted capacities and roles by virtue of a necessity that was pretty much forced upon me. An opportunity arose here out West to teach theology at Trinity Western University and ACTS. I made myself available and they happily agreed. But I was very much enjoying my pastoral ministry at the time, so I have tried to remain involved in ministry all along, to varying degrees of success. It's very easy to be put into a silo, you know? "Oh, he's an academic." You get sent off into the "academic" as though it's not a part of ministry. Well, I don't really like that dichotomy, because I am a person who believes that everything I do on the academic level has practical implications in the church.
Speaking of your academic work, I understand that you just published a book: The Analogy of Faith: the Quest for God's Speakability. Tell me a bit about that—what do you mean by "speakability"?
Well, that subtitle is not mine: that is the publisher's. I argued with them over it. The word "speakability" comes from a German word that's almost untranslatable, sprachlichkeit. It's a word that comes out of Eberhard Jüngel's revised approach to establishing theology as a possibility in and through the place where God has spoken: namely, Jesus Christ. So it's a way of surreptitiously saying that we're seeking to speak about God through Jesus Christ. The original subtitle of the book was The Christological Content of Theology, because the last chapter is Christological.
I hear that you love fishing.
Um, a little bit. Some would say that I need to repent.
You're not alone: I know that Professor Iain Provan and Professor Phil Long both love to fish. This convergence of interests inevitably raises an important question: is there a mystical connection between theological education and fishing?
Oh my, yes! Fishers of men! The original apostles were fishermen, you know. So I take it that I stand in a great heritage. Plus the fact that, being from Newfoundland, fishing is ingrained in my being. It's something that we just do naturally. So I like to think that my connection with nature also has spiritual dimensions, sure.
Do you get back to Newfoundland very often?
The last time I went back was April, but that was an unfortunate return, because I had to go and say goodbye to my father, who passed away that month. He was a good man.
Do you have a final word of encouragement for this year's students?
I would say this to my students and all my Regent colleagues: seek the Lord while he may be found; call upon him while he is near! Seek him with all your heart! In all that you do, whether it's in your disciplines—be it in exegesis or history or theology or culture or art—whether in your liturgical practice or your day-to-day life. The whole of life, I think, is a longing after God, so to the degree that we train ourselves in that direction, that's what we are about.