Arts
Spirit of Truth
Thursday, Jul 3, 2014 at 4:30PM - Friday, Aug 1, 2014 at 12:00PM
This event has now ended. Please view this page to see all our upcoming events.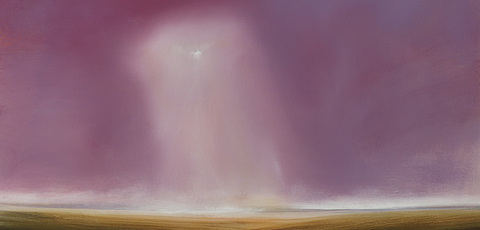 Join us for the opening reception of S.Brooke Anderson's landscapes on Thursday, July 3 from 4:30-7:30 pm. Her paintings will be on display in the Lookout Gallery until Friday, August 1.
Artist's Statement
My paintings often depict an idealization of the landscape, as a healing place where miracles may occur. This body of work entitled "Spirit of Truth" explores both the seen and the unseen, reflecting my conviction that "the presence of God is everywhere; one needs only to look."
About the artist
Brooke Anderson is a painter and Expressive Art Therapy practitioner using the creative arts as a doorway to the sacred. It is through this door that self-discovery, healing, and transformation become possible. After being invited into the Federal Prison system in 2008 to assist inmates with a mural project, Brooke felt called to return the following year to initiate an arts program that would allow incarcerated women to engage their imagination in the art making process. This work is expanding to Halfway houses to support women as they reintegrate into community. Brooke's paintings are exhibited internationally and as part of the State Art Collection of Canada, displayed in the Official Residence of the Governor General in Ottawa, Ontario. Her most recent portrait commission includes the Speaker of the Legislative Committee In Victoria, British Columbia. She lives in Vancouver with her two daughters.
Location
Regent College Lookout Gallery