Bookstore
"Seriously Dangerous Religion? The Importance of the Old Testament for Human Rights"
Tuesday, Mar 25, 2014 at 7:30PM - 9:00 PM
This event has now ended. Please view this page to see all our upcoming events.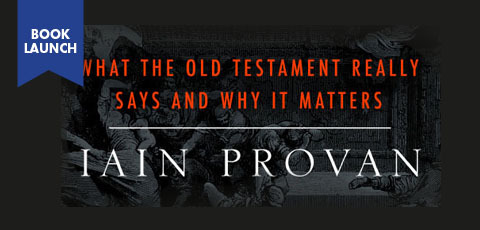 The Regent College Bookstore is pleased to present an evening public lecture with Regent faculty member Iain Provan to celebrate the release of his forthcoming book, Seriously Dangerous Religion: What the Old Testament Really Says and Why it Matters. The book will be published by Baylor University Press and be available in March 2014. A book signing will follow the talk.
About the book
The Old Testament is often maligned as an outmoded and even dangerous text. Best-selling authors like Richard Dawkins, Karen Armstrong, and Derrick Jensen are prime examples of those who find the Old Testament to be problematic to modern sensibilities. Iain Provan counters that such easy and popular readings misunderstand the Old Testament. He opposes modern misconceptions of the Old Testament by addressing ten fundamental questions that the biblical text should—and according to Provan does—answer: questions such as "Who is God?" and "Why do evil and suffering mark the world?" By focusing on Genesis and drawing on other Old Testament and extra-biblical sources, Seriously Dangerous Religion constructs a more plausible reading. As it turns out, Provan argues, the Old Testament is far more dangerous than modern critics even suppose. Its dangers are the bold claims it makes upon its readers.
Location
Regent College Chapel