Off-Campus
Chancellor's Lecture Series
Thursday, Nov 28, 2013 at 7:00PM - 8:15 PM
This event has now ended. Please view this page to see all our upcoming events.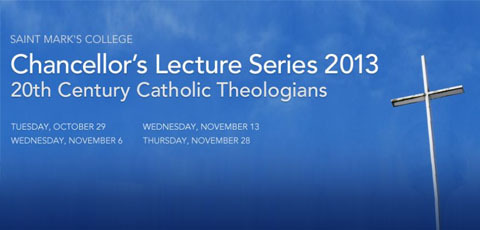 Professor Hans Boersma is speaking at St. Mark's Chancellor's Lecture Series on Twentieth Century Catholic Theologians. Four scholars will provide their reflections on two Catholic theologians who have influenced current theology and Church teaching in significant ways. On Thursday, November 28, Dr. Boersma will expound on the impact of Jean Daniélou and Henri De Lubac. For details about all the lectures, visit St. Mark's College. Admission is by donation.
Dr. Hans Boersma is the J.I. Packer Professor of Theology at Regent College. Read his full bio
Location
Saint Mark's Chapel at 5935 Iona Drive
Parking
Limited availability, so please arrive early or plan for parking at one of the alternate lots at UBC.