Faculty Travels
Renewal Ministries Northwest
Saturday, Oct 12, 2013 at 9:00AM - 4:00 PM
This event has now ended. Please view this page to see all our upcoming events.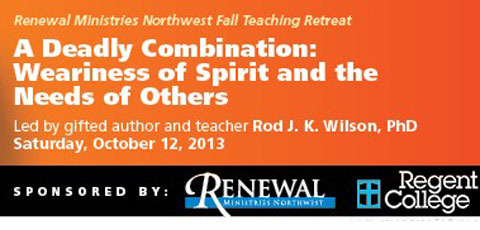 Through advances in technology and communication, we are becoming more and more aware of the needs of others, but in the process, we are experiencing a deep weariness of spirit that disconnects us from the Father, from ourselves, and from others. Whether we are in pastoral ministry, working in the home, or serving in the marketplace, we are all wondering if it is even possible to live whole and holy lives in such a needy world.
Renewal Ministries Northwest will be hosting this day-long event as Regent College president Rod Wilson helps us to seek God's rest and peace in the midst of life's many demands. His day long seminar is titled, "Weariness of Spirit and the Needs of Others."
COST: $25 early-bird; $15 student (includes snacks and lunch)
TO REGISTER: Click to download Interactive Registration Form, fill it out, print and mail it with registration fee to:

RMNW
PO Box 458
Mukilteo WA 98275
Location
North Creek Presbyterian Church, 621 164th Street Mill Creek, WA 98012