ARTS (IPIAT)
Weave A Tale, Spin A Rhyme: Wearable Art As Collective Story: An IPIAT presentation by Jill Cardwell
Tuesday, Apr 9, 2013 at 8:00PM - 10:00 PM
This event has now ended. Please view this page to see all our upcoming events.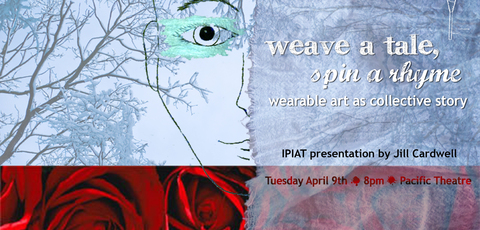 Jill Cardwell presents her Integrative Project in the Arts and Theology (IPIAT): a collaborative art project exploring embodied relationships and stories through the fairy tale of The Snow Queen.
The presentation takes place at Pacific Theatre (12th Ave at Hemlock).
Location
Pacific Theatre, 12th and Hemlock, Vancouver